russ collins column
cinema chat:

'Cloud Atlas,' 'The Imposter,' midnight 'Rocky Horror' and more at the movies this week

Posted on Thu, Oct 25, 2012 : 5:04 a.m.
Opening at the multiplex
"Cloud Atlas" explores how the actions and consequences of individual lives impact one another throughout the past, the present and the future. Action, mystery and romance weave dramatically through the story as one soul is shaped from a killer into a hero and a single act of kindness ripples across centuries to inspire a revolution in the distant future. Each member of the ensemble appears in multiple roles as the stories move through time. James Rocchi of MSN Movies says, "It is so full of passion and heart and empathy that it feels completely unlike any other modern film in its range either measured through scope of budget or sweep of action." "Cloud Atlas" opens Friday.
Based on the true story of surfing icon Jay Moriarty, "Chasing Mavericks" tells the story of a young man's quest to surf Northern California's most dangerous wave, and the local legend who takes him under his wing. What begins as a mentorship turns into a unique lifelong bond, as the two unlikely friends discover that there is nothing more powerful than pushing your limits and chasing a nearly impossible dream. "Chasing Mavericks" opens Friday.
"Fun Size" is a teen comedy centered on a sarcastic high school senior, Wren, who is eager to distance herself from her dysfunctional family by going off to college. Before that can happen, Wren's mother, Joy, insists that she watch her little brother Albert on Halloween night, so Joy can go to a party with her much younger boyfriend. When Wren gets distracted by an invitation to the party of the year, Albert disappears into a sea of trick-or-treaters. Frantic to locate him before their mother discovers he's missing, Wren enlists the help of her best friends. "Fun Size" opens Friday.
Opening downtown
"The Imposter" walks the razor's edge between true-crime documentary and stylish noir mystery. The twisting, turning tale begins with an unsettling disappearance—that of Nicholas Barclay, a 13-year-old Texas boy who vanishes without a trace. Three and a half years later, staggering news arrives: The boy has been found, thousands of miles from home in Spain, saying he survived a mind-boggling ordeal of kidnap and torture by shadowy captors. His family is ecstatic to have him back no matter how strange the circumstances—but things become far stranger once he returns to Texas. Though the family accepts him, suspicion surrounds the person who claims to be Nicholas. How could the Barclay's blonde, blue-eyed son have returned with darker skin and eyes? How could his personality and even accent have changed so profoundly? Why does the family not seem to notice the glaring differences? And if this person who has arrived in Texas isn't the Barclays' missing child... who on earth is he? "The Imposter" opens Friday at the Michigan Theater.
Special screenings downtown
An Ann Arbor tradition continues tonight with "Nosferatu"—the first vampire movie! The film is about a real-estate agent (Gustav von Wangenheim) who begins conducting business with the eerie Count Orlok (the beyond-creepy Max Schreck), who goes on a rampage when he becomes obsessed with the man's beautiful wife. This very special presentation of a 1922 film classic will have live organ accompaniment on the Michigan Theater's grand Barton Organ by the Michigan's gifted organist, Steven Ball. Roger Ebert said it best: "It doesn't scare us, but it haunts us. It shows not that vampires can jump out of shadows, but that evil can grow there, nourished on death." "Nosferatu" plays tonight at 8 p.m. at the Michigan Theater.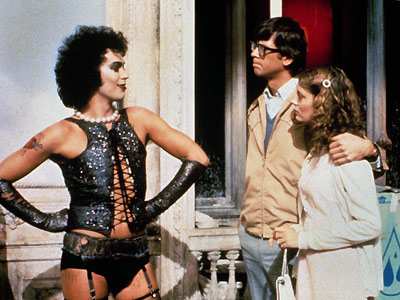 "The Rocky Horror Picture Show"
returns! The film is a notorious horror film parody, a fast-paced potpourri of camp, sci-fi and rock 'n' roll. The basic plot follows the exploits of Brad (Barry Bostwick) and Janet (Susan Sarandon) after they stumble upon the lair of transvestite vampire Dr. Frank-N-Furter (Tim Curry). This bizarre musical also stars Meat Loaf and Richard O'Brien. "The Rocky Horror Picture Show" plays October 26 and 27 at 11:59 p.m. at the State Theatre.
"National Theatre Live: Last of the Haussmans" is a funny, touching and sometimes savage portrait of a family that's losing its grip. This live production by the National Theater of Great Britain plays Oct. 28 at 7 p.m. at the Michigan Theater.
The Motor City Movies series continues with "Gran Torino," starring Clint Eastwood as a racist Korean War veteran living in a crime-ridden Detroit neighborhood who is forced to confront his own lingering prejudice when a troubled Hmong teen from his neighborhood attempts to steal his prized Gran Torino. "Gran Torino" plays Oct. 29 at 7 p.m. at the Michigan Theater.
See you at the movies!