Posted on
Thu, Oct 27, 2011 : 5:52 a.m.
Halloween favorites, 'Puss in Boots' in 3D, Johnny Depp in 'Rum Diary,' and more at the movies
By Russ Collins
Win free movie tickets

Editor's note: Comment on today's "Cinema Chat" for a chance to win free movie tickets to the Michigan Theater. Some time between now and 9 a.m. Monday, leave a comment on this column, written by the Michigan Theater's Russ Collins. Offer your opinion on a recent movie you've seen, or on anything Russ mentions. A winner will be randomly selected, and we'll notify that person via the email address they signed up with. They will get two passes to a movie of their choice, courtesy of The Michigan Theater. Full rules here.

"Nosferatu" & "Rocky Horror"—Halloween traditions return

"Nosferatu," the first Dracula film, returns!  A real estate agent (Gustav von Wangenheim) begins conducting business with the eerie Count Orlok (the beyond-creepy Max Schreck), who goes on a rampage when he becomes obsessed with the man's beautiful wife. This very special presentation will have live organ accompaniment on the Michigan Theater's grand Barton Organ by the Michigan's gifted organist, Dr. Steven Ball. Roger Ebert said it best: "It doesn't scare us, but it haunts us. It shows not that vampires can jump out of shadows, but that evil can grow there, nourished on death." "Nosferatu" plays tonight at 7:30 p.m.

"The Rocky Horror Picture Show" returns with live interactive fun led by the Tickled Fancy Burlesque Company in a special presentation of this cult classic. The film is a notorious horror film parody, a fast-paced potpourri of camp, sci-fi and rock 'n' roll. Tickets are $10 in advance or $12 at the door. "The Rocky Horror Picture Show" plays Friday and Saturday at 11:59 PM at the State Theatre.

Opening downtown

"Answer This!," the hit film set in Ann Arbor and at the University of Michigan, continues with limited screenings next week at the Michigan Theater. It is a fun, well-made film you do not want to miss!

"Margin Call," set in the high-stakes world of the financial industry, is a thriller that entangles the key players at an investment firm during one perilous 24-hour period in the early stages of the 2008 financial crisis. The biggest buzz film at Sundance this year, David Denby of the New Yorker says, "Margin Call is one of the strongest American films of the year and easily the best Wall Street movie ever made.'" "Margin Call" opens Friday at the Michigan Theater.

"Passione," directed by John Turturro, is not like any documentary you've seen before. It tells the story of the musical past and present of Naples, Italy. From opera to hip-hop, the movie approaches the city's musical history in an impressionistic style and shows the multitude of influences that make up the musical melting pot. Kevin Thomas of the LA Times says, "A beautifully structured and photographed film, John Turturro's rapturous 'Passione' offers a vibrant exploration and celebration of Neapolitan music in all its grit and glory." "Passione" opens Saturday, Oct. 29 at the Michigan Theater.

Opening at the multiplex

From the world of "Shrek" comes "Puss in Boots." Christy Lemire of the Associated Press says, "For quick, lively, family-friendly entertainment, 'Puss in Boots' works just fine, even in 3-D, which is integrated thoughtfully into the narrative and doesn't just feel like a gimmick." "Puss in Boots" opens Friday.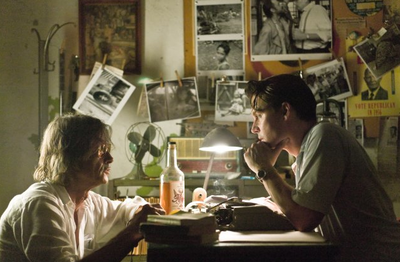 "The Rum Diary,"
based on the debut novel by Hunter S. Thompson, follows Paul Kemp (
Johnny Depp
) as he travels to the pristine island of Puerto Rico to write for a local newspaper, run by downtrodden editor Lotterman (
Richard Jenkins
). Adopting the rum-soaked life of the island, Paul soon becomes obsessed with Chenault (
Amber Heard
), the wildly attractive Connecticut-born fiancée of Sanderson (
Aaron Eckhart
), who is working to build a capitalist paradise. As you might expect, complications and comedy ensue. "The Rum Diary" opens Friday.
"In Time"
stars
Justin Timberlake
as Will Salas, a man falsely accused of murder, who must figure out a way to bring down a system where time is money—literally—enabling the wealthy to live forever while the poor, like Will, have to beg, borrow, and steal enough minutes to make it through another day. "In Time" opens Friday.
"Anonymous"
is set in the political snake-pit of Elizabethan England and speculates on an issue that has for centuries intrigued academics and brilliant minds such as Mark Twain, Charles Dickens, and Sigmund Freud: who actually created the body of work credited to William Shakespeare? "Anonymous" poses one possible (but improbable) answer. Robert Koehler of Variety says, "A handsomely staged and decidedly straight-ahead costume drama under Roland Emmerich's nearly CGI-free direction." "Anonymous" opens Friday.
Special screenings
The Three Corpse Circus Independent Horror Film Festival
returns to the Michigan Theater for its second year. Featuring films from
Drew Daywalt
(director of MTV's "Death Valley") and Academy Award-nominated director
Ruairi Robinson
, this year promises more thrills and chills! The festival takes place Friday, October 28 at 6:30 p.m. For more information, visit
www.threecorpsecircus.com
.
UMS and the Michigan Theater present the National Theatre of Great Britain's production of
"The Kitchen."
This tour-de-force spectacle is a funny and furious examination of life lived at breakneck speed, when work threatens to define who we are. "National Theatre Live: The Kitchen" plays Sunday, October 30 at 4 p.m.
The Michigan Theater's Stanley Kubrick series continues with "2001: A Space Odyssey." A mind-bending sci-fi symphony, the landmark 1968 epic pushed the limits of narrative and special effects toward a meditation on technology, evolution, and humanity. "2001: A Space Odyssey" plays Monday, Oct. 31 at 7 p.m.
Legendary U-M film professor
Frank Beaver
will present a special program on "Some Films of Unusual Provocation" at the Ann Arbor City Club's Dine and Discover series. To register, e-mail
info@annarborcityclub.org
.
Russ Collins is executive director of the Michigan Theater in Ann Arbor. Tune in to the audio version of "Cinema Chat" on WEMU radio (89.1-FM) each Thursday at 7:40 a.m. and 5:40 p.m., or listen to it online at WEMU's web site.