Posted on
Sat, May 18, 2013 : 1:23 p.m.
'Circle of Art' fundraiser to benefit Food Gatherers
By Ann Dwyer
By purchasing a piece of art, you can help feed families in need. The Saline Picture Frame Co. is teaming up with talented folks in the community to host the Circle of Art fundraiser for Food Gatherers.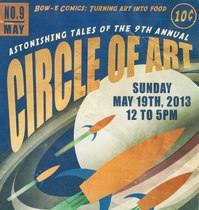 Local artists donate small works of art, and the Saline Picture Frame Co. mats them and hosts the event. The artworks range from paintings, drawings and jewelry to wood carvings, baskets and vases. Refreshments will be available.
Get a look at what items are available and make a bid at www.salinepictureframe.com/store/about/circle-of-art.
There is a wide number of items on sale and priced for any budget. Over the past eight years, the sale has allowed Food Gatherers to feed thousands of local residents.
Sunday, May 19, 2013. Noon-5 p.m. Free admission. The Saline Picture Frame Co. is located at 7641 N. Ann Arbor St., Saline. 734-429-3352.