Posted on
Fri, Oct 28, 2011 : 7:31 a.m.
Unexpectedly popular, The Civil Wars coming to the Michigan Theater
By Kevin Ransom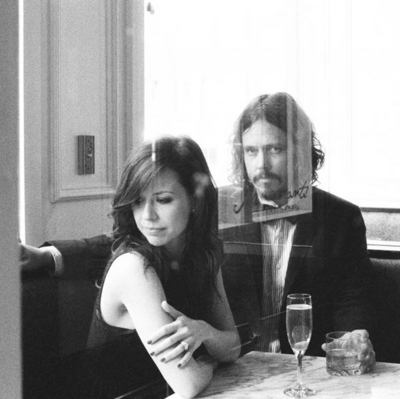 photo by Tec Petaja
For the majority of music fans / record buyers, their first exposure to the music of the folk-pop duo
The Civil Wars
—who come to the Michigan Theater on Wednesday—was via TV.
The duo's atmospheric "Poison & Wine" song made its debut in a December 2010 episode of the popular "Grey's Anatomy" show—a few months before the release of the duo's "official" debut album, "Barton Hollow." (The duo had previously self-released a recording of a live show, "Live at Eddie's Attic" in 2009—in fact, it was only the second show they'd ever done together—but it was a digital-only release, and not widely heard.)
The fact that "Grey's" played the entire song, and featured it so prominently, over a climatic video montage, caught the duo—Joy Williams and John Paul White—a bit off-guard, considering that the show didn't tell them it was using the song until four days before it aired. At the time, they had not yet made the song available on iTunes or created a video to promote it.
So, when they first got the news from "Grey's," they did some scrambling. They rushed to get the song onto iTunes, and then conceived and shot a video in one day. As the video was being uploaded onto the Internet, the duo was watching the episode of "Grey's."
At the same time, "we were watching the (upload bar) get further and further and further," Williams told National Public Radio. "And down almost to the second that the last note of the song played ... (the video) was uploaded to the Internet."
The success of that song—plus the endorsement of Taylor Swift, who included it in her official iTunes playlist and called the song "exquisite"—helped "Barton Hollow" debut at No. 12 on the Billboard charts in February. And the rest of the year has been a whirlwind of live shows, press interviews and a level of attention for which they were quite unprepared.
Their success and acclaim is even more surprising given that Williams and White met in an unusual way—at a songwriters camp in 2008, when the attendees were paired up in different combinations to see if anything clicked.
PREVIEW
The Civil Wars
Who: Folk-pop duo whose first studio album debuted at the No. 12 spot on the Billboard charts in February.
What: Intimate songs that sometimes sound like hushed conversations, delivered in close-harmony vocal style, backed by the spare instrumentation of acoustic guitar and piano.
Where: Michigan Theater, 603 East Liberty Street.
When: Wednesday, 7:30 p.m.
How much: $20, $25, & $30. Tickets available at all Ticketmaster outlets including the Michigan Union Ticket Office, or online from MUTO. Charge by phone at 800-745-3000.
It was "blind date, getting stuck in a room together, not knowing anything about each other," says Williams in an interview on The Civil Wars' website. It was strictly business, though—Williams and White did not become a couple, although some fans think that they are.
"I think that's actually quite flattering, to be honest," adds White in the website interview. "Because we don't want people to think that we're up here acting and feigning the emotions that we write and sing about and show on stage. But one of the things that really make this special in our eyes is that if she and I were in a relationship together, it'd be a totally different act. We would write totally different songs."
Barb Chaffer Authier, The Ark's marketing director, says she "love(s) how their voices blend together and float over each other in many of their songs. There's haunting quality and a deep undercurrent of longing that really draws me in as a listener.
There's also a more rootsy element in songs like 'Barton Hollow,' 'From This Valley' and 'Oh Henry' that sometimes feels like old-timey traditional roots music, and sometimes like something grittier and edgier.
"And their chemistry is even more evident onstage than on their recordings. The room at The Ark was really charged the night I saw them. There was a palpable tension. I couldn't have pulled my eyes away from them if you'd paid me."
Most of the tracks on "Barton Hollow" are roots-pop ballads, with their seductive, close-harmony vocals usually only backed by an acoustic guitar and piano, with the occasional sound of muted drums, like on "Poison and Wine." The title track is also a departure from the bare-bones sound, with a sensual Southern-soul groove.
But the minimalistic treatment is befitting a set of songs that do come off as hushed conversations.
Plus, "some of it is logistics," says White. "It's so much easier for two people to get into a car. But it just felt like releasing that record with just the two of us also put that stripped- down, more organic, more raw kind of sound in people's minds. It's just she and I and a guitar and piano. If there's something that is lacking, it's gonna be painfully obvious. So the song's guts have to be strong, at least for us, from front to back."
"I love that they're just a duo," says The Ark's Chaffer Authier. "Their intense harmonies and vocal blend are very powerful over sparse instrumentation. I feel like a full band behind them would be too much and just clutter the sound and distract from their intertwined vocals."
Williams, who like White worked as a solo artist before they commingled their talents, adds that sharing the vocals is "one of my favorite things about The Civil Wars, because when you're a solo artist, you can't harmonize while singing the lead. To me, all harmony is active listening."
Kevin Ransom, a freelance writer who covers music for AnnArbor.com, can be reached at KevinRansom10@aol.com.