Posted on
Fri, Aug 10, 2012 : 5:57 a.m.
Claire Lynch bringing her unique Americana sound to The Ark
By Kevin Ransom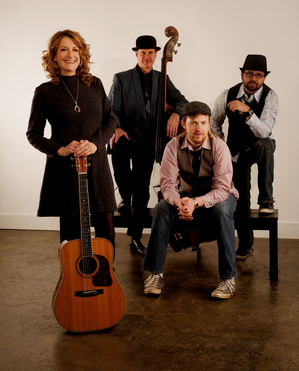 In 2009, when we last checked in with Claire Lynch—the tremendously talented bluegrass / country / folk singer—she said she was feeling "liberated" after having gone through several life changes in the previous few years.
In 2006, she released her first album in six years, after being out of the music business for that long. The next year, she got divorced from her husband—who'd also been her bandmate for more than 20 years in the Front Porch String Band—and moved to Nashville from her longtime home in Alabama.
Now, a few years settled into her "Chapter Two," Lynch says "I'm feel like I'm definitely coming into my own, and taking care of me, and moving into directions that I want to. And, I've built up more confidence in that area, and have been surrounded by people who've been very supportive of me in that respect."
After spending only about 30 seconds listening to Lynch's gorgeous, crystalline vocals—which almost always prompt comparisons to Emmylou Harris—one wonders how she ever lacked confidence in her talents.
"Well, it's hard being me, what can I say," Lynch says with a laugh. "Talent is one thing, but no one knows everything about a person just from hearing them perform. Self-confidence was never one of my greatest assets, so I've had to work really hard to attain it, and I think it shows now."
Indeed, in 2010, Lynch—who comes to The Ark with her band on Thursday—was named Female Vocalist of the Year by the International Bluegrass Music Association. And her last album, "Whatcha Gonna Do," from 2009, won a bevy of glowing reviews - both for her sterling, expressive vocals and for her songwriting talents. Lynch and her band are now at work on a new album.
PREVIEW
Claire Lynch Band
Who: Lynch is a bluegrass veteran with a gorgeous voice, and is also an acclaimed songwriter.
What: A hybrid of bluegrass, folk, country, Americana and swing. Lynch and bassist Mark Schatz liven things up with Appalachian clog dancing, and Schatz also employs the hambone style of body percussion.
Where: The Ark, 316 S. Main St.
When: Thursday, Aug. 16, 8 p.m.
How much: $15. Tickets available from The Ark box office (with no service charge); Michigan Union Ticket Office, 530 S. State St; Herb David Guitar Studio, 302 E. Liberty St. or online from MUTO.
"We've got all of the songs picked, including my own compositions and a few covers, and we've rehearsed them enough that we know how we want them to sound, and we've also been performing several of them in our live shows," says Lynch by phone from a tour stop in the Boston area, where they'd just played the Lowell Folk Festival.
"We plan to record it October, so hopefully it will be out in early 2013."
Lynch was born in New York state, and moved to Alabama at age 12. So, she wasn't steeped in bluegrass as a child, like many Southern children were in the late '50s and early-to-mid-'60s. "I started out as a folkie, just me and an acoustic guitar," she recalls.
So, her take on bluegrass has never been from a strictly traditional perspective. She's always drawn on folk music, some pop elements, and some swing, and she says the new record will be in that same vein.
"And my approach to bluegrass has become less traditional as the years have gone by," she says.
One of her new songs, "Dear Sister," is one she co-wrote with Louisa Branscomb. It was inspired by the moving true-life experience of some of Branscomb's ancestors, says Lynch. "It's based on two brothers and the letters they wrote home to their sister during the Civil War. The letters are now in a historical museum in Alabama."
Another new tune is one she co-wrote with Craig Fuller, formerly of Pure Prairie League and Little Feat, titled "Once the Teardrops Start to Fall." "We made an effort to write it in a bluegrass vein, so it has those roots, but it's also very bluesy," she says.
For the new disc, she and the band will also give their bluegrass-country-folk treatment to a couple of songs by Sarah Siskind, the young folk / Americana artist whose 2009 "Say it Louder" album was named Americana Album of the Year at the 2010 Nashville Music Awards.
Given the stature she attained over the years, first with the Front Porch String Band and then with her own band, Lynch has been able to draw some ace young musicians to her group. But a couple of them have been such phenoms that they've moved on, so her band has seen some personnel changes in the last five years. The newest addition is fiddler / mandolin player Bryan McDowell, who joined in January and is just 20 years old.
"I think he's really raised the bar for our band," she says. "He has very diverse tastes, and listens to a lot of jazz, and is sort of an old soul. He reminds me of a young Mark O'Connor."
Lynch's live show is also a unique one for a bluegrass band, in that bass player Mark Schatz also employs hambone—the rhythmic percussion style that includes stomping and the patting and slapping of the arms, chest, legs and even cheeks, and which has its roots in West African dance. And, he and Lynch also do some Appalachian clog dancing. "Mark is very accomplished at it—he and his wife have a dance ensemble. I'm okay, but I never forced myself to become great at it, but I love the rhythm of it."
The acclaim that Lynch has earned over the last few years, since "Whatcha Gonna Do," is such that the band is headlining three high-profile bluegrass festivals in the year ahead - Wintergrass and MerleFest this summer, and the Podunk Festival next summer.
"That's amazing, to be doing all three of those within a year," effuses Lynch. "That's unprecedented for us. I do feel like there is a buzz out there about us right now, and we're happy to be playing music that people want to hear."
Kevin Ransom is a freelance writer who covers music for AnnArbor.com. He can be reached at KevinRansom10@aol.com.