art review
Clay Gallery showcasing fascinating works of Craig Hinshaw
Posted on Sun, Sep 16, 2012 : 5:17 a.m.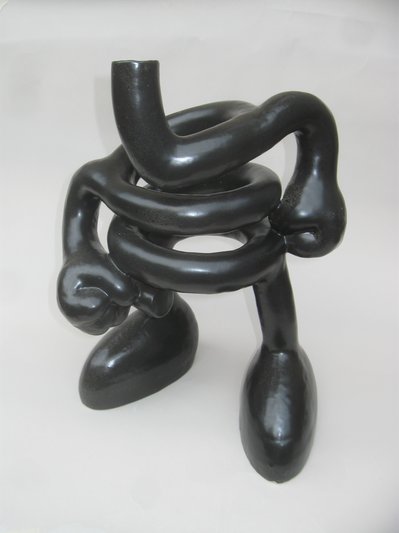 Surreal ceramics with a wry sense of humor walk hand in hand—and in some notable instances, hand to throat—in Craig Hinshaw's "Now & Then" at Ann Arbor's Clay Gallery.

This local ceramist describes these creatures and anthropomorphic geometric abstractions as his career "mini-retrospective." It's a modestly unfair characterization, because there's nothing "mini" about this clever three-dimensional art.

Hinshaw tells us in his artist's statement, "Now & Then" features two different themes he's worked on in clay through these last two decades. As he says, "The themes come from different aspects or places within me and my perceptions.

"The animal theme is my response to perceptions of man's and animal's intertwined relationships. Environmentalism, factory farming, and human dominion over the animal world are issues I've interpreted. There is an edgy humor presented in the work.

"The black and whites, which I am presently making; utilize only one glaze which is either left white or a black colorant is added. These pieces have a sense of pent up energy. This body of work is derived more from my core being, rather than being reactionary as the animal pieces tends to be."

It's his personal dichotomy, so let's start with the "then" series of animals.

These ceramics are a miniature menagerie of barnyard creatures. But what's most interesting is the manner in which they are presented.

For example, these high-fire stoneware pedestal or wall-mounted statues are depicted at rest or well in hand. Hinshaw's "Dog" is lying passively on his side while his "Bird—Wall Piece," "Chicken," and "Duck" are grasped as though they were being hauled away—and none-too-gently at that. Add a "Lamb" whose midsection has been turned into a loaf of bread or a grazing "Milk Cow" that has a flattened back and you have a definite sense of Hinshaw's humor and his surreal zoo.

The animals are, of course, unknowing. But there's enough of an edge to their construction for us to know what's up in their world. For no one's ever said the human world is easy—and Hinshaw's creative interpretation of their place in our environment is quite telling.

All the more reason; therefore, to linger over his geometric abstraction, which sometimes has a witty vein running through it.

Some of these artful works—for instance, a "Zigzag Step Through" vessel and "Step Through Vessel"; as well as a whole series of perforated "Plates with Small Holes"—have a geometric stolidity whose abstract crafting makes them escheresque constructions. Following the bends and turns of Hinshaw's ceramic—and playing with its subtle positive and negative space—is an engrossing artful exercise for its own sake.

On the other hand, stars of the show are a group of black biomorphic "spring" sculptures whose construction is black glaze coiled springs with arms, legs, and feet attached. Thus Hinshaw's "'O' Vessel" consists of simply that: A seated ceramic oval with feet and legs jutting from its bottom.

The signature work of art in this display is the crafty "Spring Man" where a dynamic coil is supplemented with striding arms and legs. With this ceramic masterwork, Hinshaw decisively breaks away from his "Then" animal representation by creating an otherworldly fellow who's "Now" speaks volumes about where he's artistically going.

As "Spring Man" might say: It's been a long 20 years, but Hinshaw's creativity is still trucking.

"Now & Then: Craig Hinshaw" will continue through Sept. 29 at The Clay Gallery, 335 S. Main St. Gallery hours are noon-8 p.m. Monday-Thursday; noon-9 p.m. Friday-Saturday; and noon-5 p.m. Sunday. For information, call 734-662-7927.