Posted on
Wed, Feb 15, 2012 : 7:47 a.m.
Clay Gallery exhibit showcases the fascinating potential of cups as art
By John Carlos Cantu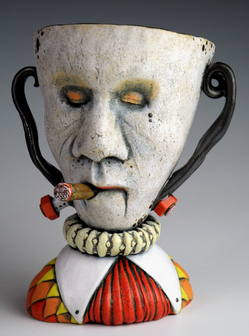 There's a lot to admire in this year's "Cups of Fire: National Ceramic Cup Competition" at Ann Arbor's Clay Gallery. For there can't be many things more basic than this classic ceramic shape, yet the three back walls of the gallery display 169 variations.
As the juror, Arizona State University Assistant Professor in Ceramics Susan Beiner, tells us of her selections for this nationwide competition, "It is my objective for the works in this exhibit to speak with clarity and elegance to the creative potential of the 'cup.'
"I chose 169 pieces out of 313 (entries),"adds Beiner. "These objects challenge us to present the most common form in a unique manner by presenting them in an interesting or provocative fashion. They are intimate forms of expression that possess strength in concept as well as technical skill."
This split attention between concept and technical skill has turned out to be a good thing for the Clay Gallery. What might have been potentially tedious is instead surprisingly fascinating.
There's something intrinsically pleasing about the cup. Its form is inviting, fostering the propriety most of us feel about our favorite cup.
Whether for coffee, tea, or whatever, our cup speaks to our identity. See someone's cup and you'll know something about him or her.
This singular artistic insight lends a guiding thread to this curious display. For the attention lavished on these cups by these artists also reveals quite a bit about each artist's aesthetic.
In an exhibit where the creativity runs from the purely functional to the fully fanciful, there's quite a bit of personality here to make the affair memorable.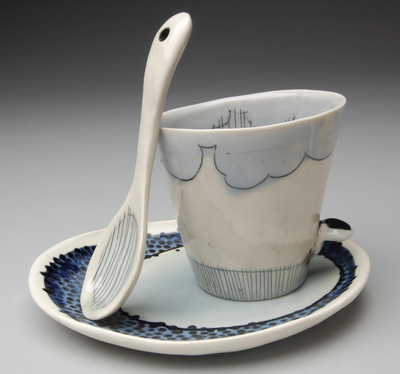 Best of Show has been awarded to Watertown, Mass'
Nicole Aquillano
for her white stoneware "Cloudy Day." Second place went to Rochester, NY's
Andrew Cho
for his stoneware "Over Easy." And third place went to Davison, Mich.'s
Craig Hinshaw
for his "Cup and Saucer 1." Several honorable mentions were also awarded. Local ceramicists
Julie Corey, Monica Wilson
and
Julie Walther
of Ann Arbor; Chelsea's
Hazel Schroen
and
Susan Steel
; and Ypsilanti's
Darcy Bowden
are included in the show.
It's hard to argue with Beiner's "Cloudy Day" best of show selection. Indeed, I agree that Nicole Aquillano's white stoneware cup is a definite first among equals.
The diminutive "Cloudy Day" (as well as its matching spoon and plate) features an attention to detail that makes up for the cup's rough and ready overcast appearance.
As Aquillano says of her effort, "My cheery, yet melancholy work highlights the importance of individuality and intimacy. The humanity expressed in each hand drawn line triggers contemplation. The intimate scale of the forms allows complete immersion in a calming sense of connectedness."
This handsome little cup, spoon, and saucer may well be as contemplative as Aquillano says. But she's also right in saying that "Cloudy Day" is as cheerful a set of ceramics as we're likely to see.
In an exhibit pushing the boundaries of mugs, beakers, teacups, and goblets in almost every conceivable manner, Beiner has opted to reward an old-fashioned handcrafted cup whose very lack of pretension increases its airy charm.
"Cups of Fire: National Ceramic Cup Competition 2012" will continue through March 3 at The Clay Gallery, 335 S. Main St. Gallery hours are noon-6 p.m. Monday-Thursday; noon-7 p.m. Friday-Saturday; and noon-5 p.m. Sunday. For information, call 734-662-7927.