Posted on
Fri, Jan 18, 2013 : 5:12 a.m.
Clay Gallery celebrating 90 years of legendary local artist J.T. Abernathy
By John Carlos Cantu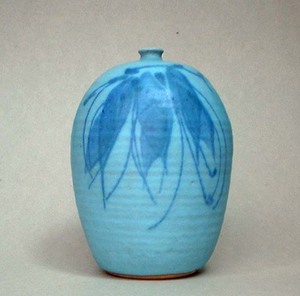 You know you've "arrived" in your career when your birthdate launches a respectful retrospective. And so it is for local ceramicist
J.T. Abernathy
at Ann Arbor's downtown Clay Gallery.
"J.T.'s 90th" at Tree Town's all-things-clay gallery is devoted to a cross-section of this local legend's birthday on Jan. 19.
It's a telling affair — more affectionate than comprehensive — in that the art on display (none of it dated) could have been reasonably crafted at any point in Abernathy's career. And when your career spans more than six decades, this is saying a lot.
Then again, Abernathy's ceramics say a lot about him as an artist. For starters, his work is timeless. Second, there's a muscularity to much of his work that's a veneer for a sophisticated, gentle character. And third, ceramics differs just enough from other kinds of contemporary art to make 90 years of such creativity a legitimate ground for celebration.
As the Clay Gallery's exhibition statement says, "The title 'legend' is often too loosely used, but J. T. Abernathy truly qualifies on many levels. The sheer longevity of his career and the countless potters and artists he's inspired represent a solid foundation for such a distinction.
"Add to this his early career teaching art at the University of Michigan; the styles or 'periods' of ceramic art his work has encompassed; his service to other potters and artists in the area (e.g., the clay-making business he ran for over twenty years); the broad range of kilns and studio equipment he's designed and built; (as well as) his friendly, mild mannered presence in downtown Ann Arbor for decades."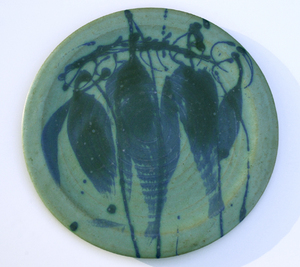 Just taking a look at the 51 samples of Abernathy vases, bowls, plates, and non-functional art on display at the Clay Gallery demonstrates his influence on local ceramics. But it's this third notion — that is, ceramics' unique place in 21 century art — that tells us the most of Abernathy's life work.
Prior to the mid-20th century (that is, roughly around the beginning of Abernathy's career), ceramics was not widely appreciated as an artform. As one of the oldest arts, the medium was effectively aesthetically moribund.
It took a generation of young lions working on the fringe of the art world at that time to reconceptualize — and far more important, revitalize — what it meant to use ceramics as art.
This required a certain amount of smashing the old template of functionality (so to speak) to create ceramics as art for art's sake. And it took a remarkable amount of courage to set aside the old in favor of the new.
Today, ceramics has a healthy foot in both camps.
It's an art fair staple — indeed, likely the most interesting art at such fairs because of its versatility — as well as a form of high art.
It took a talent with wide scope to revere yet transcend the old into the new. And this is precisely what "J.T.'s 90th" illustrates by example.
His stoneware ceramics — as one style of art with many vases, bowls, and plates on display — is a hard-fought effort. And at the very least it's a physically challenging effort.
The display is rich with a variety of functional wares, the likes of which grace many of the homes and kitchens here in Southeast Michigan. Mildly approximating a touch of Asia in its leaf and stem design or a vividly rendering multi-colored abstract line through his glaze, Abernathy keeps his form and design true and simple.
But this is even the case of his non-functional ceramics.
For example, Abernathy's "Colorful Egg Vase" at the Clay Gallery is paradoxical in that its encrusted exterior with differing colored glazes competes for as much attention as the gruff texture of the vase itself. Too roughhewn to be incidental — and far too proficient to be accidental — this miniature masterwork definitively illustrates the recent history of contemporary ceramics.
The contrast between Abernathy's functional and non-functional ceramics is clear enough to chart his personal approach to the artform's malleability. But there's also a hint of artistry in his artisan approach that transcends these facile definitions.
For nestled in the Clay Gallery wall on a wall-mounted stand is a medium-sized "Raku Vase" that defines both poles of Abernathy's art.
This handsome black vase with its rich veins of turquoise and reflective bronze finish stands as testimony to his prodigious creativity. The very subtlety of its crafting says everything about Abernathy's work that could be said—or seen.
"For some basic reason," says Abernathy in his statement to the exhibit, "ceramics fits my personality. Clay interests me as a structural medium, a high-temperature medium, and certainly as an art medium.
"My interest at this point," he says, "is pottery as art." The incontrovertible proof can be found in this accomplished "Raku Vase."
"J.T.'s 90th" will continue through Feb. 2 at Clay Gallery, 335 S. Main St. Gallery hours are noon to 8 p.m., Monday-Thursday; noon to 9 p.m., Friday-Saturday; and noon to 5 p.m., Sunday. An opening reception is slated 4-6 p.m. Saturay, Jan. 19. For information, call 734-662-7927.