Posted on
Thu, Oct 27, 2011 : 4:51 p.m.
CMT show visits Ann Arbor to unlock secrets of Domino's Pizza recipe
By AnnArbor.com Staff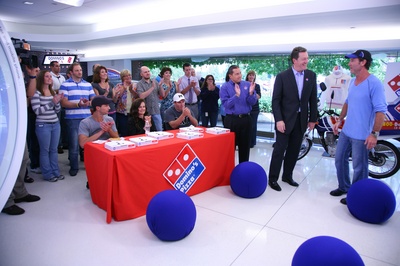 photo by Frank Montes | courtesy of CMT
The CMT cable TV program "Top Secret Recipe" visits Ann Arbor in an episode airing tomorrow that tries to figure out the recipe for
Domino's Pizza
.
Hosted by "food hacker" Todd Wilbur, the gimmick of "Top Secret Recipe" is to re-create an iconic American food brand in three days. Once Wilbur does his best, company executives and fans try the real thing and the re-creation in a blind taste test.
The Domino's episode airs at 9 p.m. Friday on CMT, a cable channel best known for programming related to country music.
According to an announcement by CMT, "In this week's episode, Wilbur's investigation takes him to Michigan, the birthplace of Domino's. He only has three days to clone a recipe that took Domino's two years to perfect, and with so little time, he has to supplement his own knowledge with some undercover work.
"He talks his way into extremely high security areas and works in disguise to uncover bits and pieces of Domino's guarded recipe. Wilbur even uses scientific analysis on the pizza sauce with the help of a university professor. With cheese, dough and sauce that each have to be perfected, this may prove to be his most difficult challenge yet."
A CMT spokesperson added that Wilbur also enlisted the help of a local fraternity to assist in some of his preliminary taste tests.
Domino's, of course, is well known for completely changing its pizza recipe a couple of years ago—and heavily advertising the results, a move that has been widely praised and led to increased sales for the chain.