Posted on
Fri, Apr 13, 2012 : 5 a.m.
Bridge column, April 13: Which defense is more common?
By Phillip Alder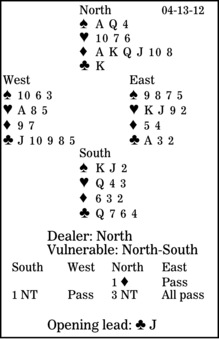 We are looking at the two styles of defense: active and passive. Which do you think is more common: active, where you positively work to establish and win tricks, or passive, where you sit back and wait for tricks to come your way?
In this deal, South is in three no-trump. How can the defenders defeat the contract?
North was right to raise to three no-trump. Since South had not shown a major or raised diamonds, he had to have club length. And nine tricks are easier to win than 11.
Despite the inference from the auction that South has clubs, it is normal for West to lead the club jack.
Now East must not fall into the "always return partner's suit at no-trump" trap. First, he should ask himself how many tricks declarer has ready to run if East does lead back a club.
Here, it must be at least nine: the club queen, six diamonds and two spades (declarer taking the finesse if he needs it). So East must pursue an active defense to try to take the first five tricks.

Clearly it is time to shift to hearts, but to which card?

When the leader has fourth hand's top card surrounded and he has a higher, non-touching honor, he should play the card directly above fourth hand's best. Here, East must switch to the heart jack. Then, however South turns, he must lose one club and four hearts.

I believe that active defense is more prevalent than passive. Usually, if you leave declarer to his own resources, he will establish the tricks he needs for his contract. You must energetically pursue defensive winners -- but not always!

** ** **

COPYRIGHT: 2012, UNITED FEATURE SYNDICATE

DISTRIBUTED BY UNIVERSAL UCLICK FOR UFS