Posted on
Sat, Apr 14, 2012 : 5 a.m.
Bridge column, April 14: One last step into defensive tempo
By Phillip Alder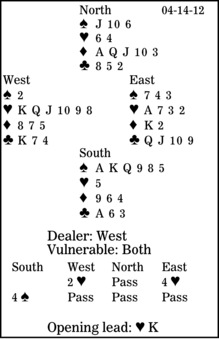 We have been studying tempo on defense. Usually the defenders should fandango, dancing quickly to gain the tricks needed to defeat the contract. But if the opponents have stretched to their contract or the dummy is relatively balanced, then the defenders should fox-trot, moving slowly and awaiting their winners.
Which applies in this deal? How should the defense proceed against four spades after West leads the heart king?
It has been said that a four-heart pre-empt is a transfer to four spades for the other side. Here, South does not know who can make what, so he bids four spades as a three-way shot: Maybe he will make his contract; perhaps West would have brought home four hearts; possibly the opponents will misjudge, going to five hearts and failing when four spades is also going down.
Seeing two losing hearts in the dummy, East should not thoughtlessly encourage with his heart seven. South will happily ruff West's heart continuation, draw trumps, and run the diamond nine. Yes, the finesse loses, but declarer wins 11 tricks: six spades, four diamonds and one club.

Knowing West has six hearts for his opening bid, East should realize that there is only one heart trick for the defense. And that diamond suit in the dummy is threatening. Rather than signaling with his heart two and hoping partner will shift to a club at trick two, East should overtake with the heart ace and lead the club queen himself. That results in one down instead of one over.

When you can see the best defense, try to take charge.

** ** **

COPYRIGHT: 2012, UNITED FEATURE SYNDICATE

DISTRIBUTED BY UNIVERSAL UCLICK FOR UFS