Posted on
Mon, Apr 2, 2012 : 5 a.m.
Bridge column, April 2: The monarch's role is short-lived
By Phillip Alder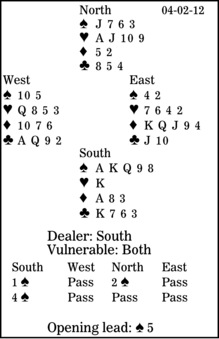 Ambrose Bierce, in "The Devil's Dictionary," defines "anoint" as: "To grease a king or other great functionary already sufficiently slippery."
In chess, a king needs to be slippery, evading mating nets. In bridge, though, sometimes a king is disposable, sacrificed for the common good.
In this deal, West leads a trump against four spades. How would you continue after drawing trumps in two rounds, using honors from your hand?
The auction was straightforward. You would have preferred the diamond king to the heart king, but such is life occasionally, even for monarchs.
First, you should count losers. Here you have zero in spades or hearts, two in diamonds and two, three or four in clubs. Second, you should count winners. You have nine: five spades, two hearts, one diamond and a late diamond ruff in the dummy. You need a 10th trick from somewhere.
Maybe East has the club ace, but perhaps there is something better.

The key is to establish some heart winners. But with only one side-entry to dummy, you must sacrifice your heart king, overtaking him with dummy's ace. Then you call for the heart jack.

If East could cover with the queen, you would ruff, play a spade to dummy's jack, and pitch two clubs on the high hearts, losing only one diamond and two clubs.

When East does not cover, though, you throw a club. West wins and shifts to a diamond, but you take the trick, cross to the board with a trump, and discard two more clubs on the hearts. You concede only one heart, one diamond and one club. The heart king dies in a worthwhile cause.

** ** **

COPYRIGHT: 2012, UNITED FEATURE SYNDICATE

DISTRIBUTED BY UNIVERSAL UCLICK FOR UFS