Posted on
Mon, Apr 29, 2013 : 5 a.m.
Bridge column, April 29: Responder makes his second bid
By Philip Adler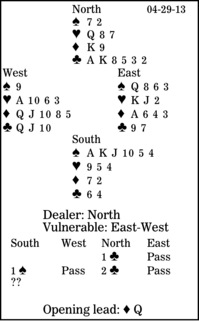 Stephen Covey, whose most popular book was "The Seven Habits of Highly Effective People," said, "Every human has four endowments: self-awareness, conscience, independent will and creative imagination. These give us the ultimate human freedom: the power to choose, to respond, to change."
Last week, we looked at opener's rebids. This week, we turn to the responder and his power to choose his rebid.
Assuming that the opener has made a minimum suit rebid, the responder divides his hand strength into three brackets: weak, game-invitational and game-forcing. If he is weak (6-9 points), he must rebid at the one-level or in two of a suit already bid by his partner or himself. So, in the given auction with a weak hand, he must pass or bid two spades. Anything else promises more strength.
Here, despite his doubleton club, South should rebid two spades. (Yes, it probably would have worked well if East or West had made a takeout double on the first round.)

West leads the diamond queen. The defenders take the first five tricks, two in diamonds and three in hearts, then exit with a club. How should South continue?

Declarer must play the trump suit without loss. He could cross to his ace, planning to return to the dummy with a club to take a spade finesse on the second round. Or he could finesse immediately.

Since West will have a low singleton spade four times more often than a singleton queen, it is correct to finesse on the first round. When the finesse wins, declarer returns to the board with a club, takes a second spade finesse, and claims.

** ** **

COPYRIGHT: 2013, UNITED FEATURE SYNDICATE
DISTRIBUTED BY UNIVERSAL UCLICK FOR UFS