Posted on
Sat, Apr 6, 2013 : 5 a.m.
Bridge column, April 6: The expert attribute not born to others
By Philip Adler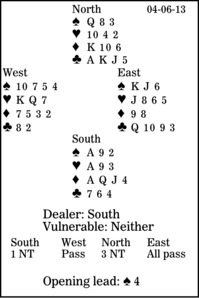 Victoria Beckham, Posh Spice of the Spice Girls and wife of soccer star David Beckham, said, "I like a man who can be a real friend, has a good sense of humor, a good pair of shoes and a healthy gold card."
There are two words in that sentence that are very important for bridge experts: card and sense. Experts are born with card sense, which is an understanding that because a player did something, it means that he has or has not got a particular holding in that suit.
How would a South with card sense handle this deal? He is in three no-trump. West leads the spade four, dummy plays the three, and East puts in his jack. What should declarer do?
When North tables his dummy, he expects the contract to make easily. However, many a declarer would go down. He would understandably take the first trick, play a club to the king, return to his hand with a diamond, and lead a club to dummy's jack. Here, East would win with his queen and shift to a heart (best). Suppose South takes the second heart. If he then runs diamonds, he squeezes East. But declarer probably tries the clubs, after which he cannot recover.

Instead, South should try for these nine winners: two spades, one heart, four diamonds and two clubs. But how should he play the spades?

Go back to trick one. East's card was the jack. When third hand is playing the highest card so far in the trick, he plays the bottom of equal cards. So West must have the spade 10. After taking the first trick, South immediately leads a spade to dummy's eight. When it pulls out the king, declarer has his nine tricks.

** ** **

COPYRIGHT: 2013, UNITED FEATURE SYNDICATE
DISTRIBUTED BY UNIVERSAL UCLICK FOR UFS