Posted on
Thu, Aug 15, 2013 : 5 a.m.
Bridge column, August 15: The singleton helps in reaching the slam
By Philip Alder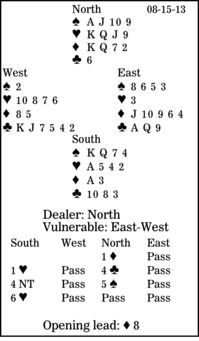 George S. Kaufman, a dramatist and journalist who died in 1961, said of "Between the Sheets" by Howard Dietz, "I understand your new play is full of single entendres."
Ouch! Yesterday I recommended not using many bidding conventions. Inexperienced pairs expend so much energy trying to remember them that they are exhausted by the time the card play begins.
However, there is one convention that is very useful: the splinter bid. An unnecessary jump shows good support for partner's suit, at least game-forcing values, and a single card (or void) in the suit just named. (A singleton is seven times more likely than a void.) It helps partner evaluate the fit.
In this deal, North's four-club rebid promised four-card heart support, a strong hand and a singleton (or void) in clubs. South, whose honors were all working, used Roman Key Card Blackwood to learn that his partner had one ace and the heart king-queen (or two aces and the heart queen).

After West finds the best lead, the diamond eight, against six hearts, how should South play?

Declarer has 11 top tricks: four spades, four hearts and three diamonds. A ruff in one hand or the other will be the 12th trick. South wins with his diamond ace (the honor from the shorter side first) and draws two rounds of trumps -- but must be careful to use dummy's honors. When the 4-1 split is revealed, declarer cashes dummy's diamond king, ruffs a diamond with his heart ace, plays a trump to dummy's nine, draws the last trump, and claims.

** ** **

COPYRIGHT: 2013, UNITED FEATURE SYNDICATE
DISTRIBUTED BY UNIVERSAL UCLICK FOR UFS