Posted on
Sat, Aug 17, 2013 : 5 a.m.
Bridge column, August 17: The adrenaline rush must be controlled
By Philip Alder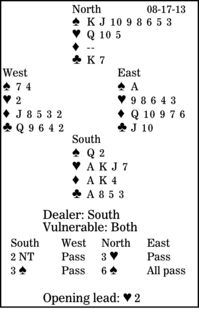 Kate Adie OBE, an English journalist who was known for reporting from war zones for the BBC, said, "If I'm in danger, then it's usually my fault and it's up to me to get myself out of it. I am not in it just to get an adrenaline rush."
At the bridge table, adrenaline rushes can make players rush, when they should be stopping to look for potential dangers.
In this deal, for example, how should South plan the play in six spades after West leads the heart two? Also, how would you have bid with that North hand after partner opened two no-trump?
In this auction, North transferred into spades, then bid the contract he hoped his partner could make. A modern super-scientist would have jumped to five diamonds over three spades, Exclusion Roman Key Card Blackwood. It would have asked South for key cards excluding the diamond ace.

Many players would win the first trick and immediately play a trump. However, East would win with his ace and return a heart for his partner to ruff and defeat the contract.

Slightly unlucky, it is true. And many Souths would then ask their partners why they had not bid six no-trump, which is impregnable. But these declarers should have paused for thought when the dummy came down. Especially given that South can see every heart honor, the opening lead has all the aura of a singleton. To avoid going down, declarer should take the first trick in his hand and discard dummy's remaining hearts on the diamond ace and king. Then it is safe to draw trumps.

** ** **

COPYRIGHT: 2013, UNITED FEATURE SYNDICATE
DISTRIBUTED BY UNIVERSAL UCLICK FOR UFS