Posted on
Mon, Aug 19, 2013 : 5 a.m.
Bridge column, August 19: Be happy to take what's necessary
By Philip Alder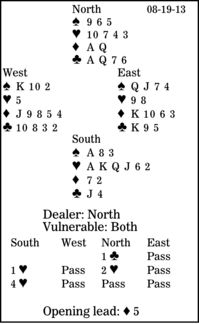 Robert G. Allen, a Canadian-American businessman who has written several personal-finance books, said, "Don't let the opinions of the average man sway you. Dream, and he thinks you're crazy. Succeed, and he thinks you're lucky. Acquire wealth, and he thinks you're greedy. Pay no attention. He simply doesn't understand."
Bridge players who are greedy rarely achieve wealth -- they usually end up complaining about bad luck.
In today's deal, how should South plan the play in four hearts after West leads a low diamond?
South wondered about a slam opposite an opening bid, but he knew his side's combined point-count was at most 29 (North's two-heart raise indicating 12-14 points), which is insufficient for a slam unless there are distributional pluses -- shortages, or a side suit that can provide discards.

South has four possible losers: two spades, one diamond and one club. But he has 10 available winners: one spade, six hearts, one diamond and two clubs.

It looks as though it cannot cost to take the diamond finesse at trick one. However, here East will win with his king and shift to a spade, which is clearly marked given the dummy. Declarer can duck one round and take the second spade, but when the club finesse fails, East will cash a spade for down one.

South must not be greedy. He should take the first trick with dummy's ace, draw trumps and run the club jack. Yes, the finesse loses, but he has those 10 tricks.

** ** **

COPYRIGHT: 2013, UNITED FEATURE SYNDICATE
DISTRIBUTED BY UNIVERSAL UCLICK FOR UFS