Posted on
Mon, Dec 12, 2011 : 5 a.m.
Bridge column, December 12: Having attitude is good when signaling
By Phillip Alder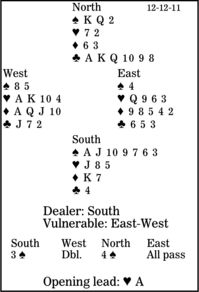 If you have a regular partner with whom you discuss the game, you probably spend most of your time talking about constructive bidding. But you defend as often as you declare. If you take every trick you should when on defense, you will be unbeatable -- unless the rest of your game stinks, of course!
There are three legal signals: attitude, count and suit-preference. An attitude signal says whether you like a suit. If you play an unnecessarily high card, you are showing a positive attitude about that suit; if you play your lowest card, you are denying interest in that suit.
Attitude signals occur when your side leads a high honor to break open a suit, or when you are discarding from a suit neither side has yet led. Let's look at examples of each today and tomorrow.
Against four spades, West leads the heart ace. How should the defense go?

South opens three spades, showing a decent seven-card suit and five to 10 high-card points. West has an automatic takeout double. And North should raise to four spades. Showing his clubs might give East the opportunity to advance with four diamonds or four hearts.

From the dummy, it ought to be obvious that the defenders need to win four red-suit tricks. East must get the defense started well by signaling with his heart nine. This cannot be the start of a high-low (echo) with a doubleton (which would give South five hearts), so West knows that it shows the queen, the honor touching the two promised by his lead. At trick two, West underleads the heart king, putting East on lead for the lethal diamond shift through South's king.

** ** **

COPYRIGHT 2011, UNITED FEATURE SYNDICATE

DISTRIBUTED BY UNIVERSAL UCLICK FOR UFS