Posted on
Thu, Dec 15, 2011 : 5 a.m.
Bridge column, December 15: The opening lead can give count
By Phillip Alder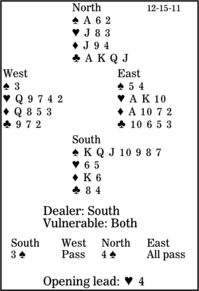 Tony Robbins, a motivational speaker, said: "We are the only beings on the planet who lead such rich internal lives that it's not the events that matter most to us, but rather, it's how we interpret those events that will determine how we think about ourselves and how we will act in the future."
After partner leads, third hand should interpret the lead and use that information to determine his future defense -- as in this deal.
What should East do after West leads a fourth-highest heart four against four spades?
South had a good hand for a pre-empt these days, but it's nice to have one's bid occasionally. North raised more in hope than expectation, a vulnerable game bonus being a powerful lure.
East should see that his side needs to take four red-suit tricks immediately: three hearts (if partner led from queen-fourth) and the diamond ace, or two hearts (if West led from a five-card suit) and two diamonds.

East wins the first trick with his king (lower of touching honors when playing third hand high) and cashes the heart ace, noting that West follows with the two. This means that West started with five hearts and South with only two. Now East must shift to a LOW diamond. If West has the king, any play works. But in this deal, declarer must be forced to guess the suit to make his contract.

I think South rates to go wrong. First, the odds slightly favor two aces being split between the defenders, not both in the same hand. And if West had begun with queen-high diamonds, he might have led that suit at trick one. With ace-high diamonds, he never would have.

** ** **

COPYRIGHT 2011, UNITED FEATURE SYNDICATE

DISTRIBUTED BY UNIVERSAL UCLICK FOR UFS