Posted on
Fri, Dec 16, 2011 : 5 a.m.
Bridge column, December 16: With a preference, send suit preference
By Phillip Alder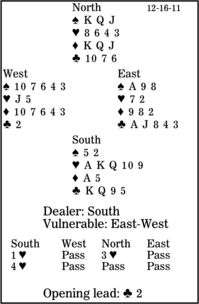 Lester B. Pearson, a former Canadian prime minister and Nobel Peace Prize winner who died in 1972, said: "When you're special to a cat, you're special indeed; she brings to you the gift of her preference of you, the sight of you, the sound of your voice, the touch of your hand."
That is so true. If you show a cat warmth and affection, the cat will reciprocate.
When signaling at the bridge table, you show or deny preference for a particular suit. Earlier this week we looked at attitude signals. But we also have the suit-preference signal. It was originally devised by Hy Lavinthal to solve this type of deal.
How should the defenders card to defeat four hearts?
Despite 12 high-card points, the North hand, with its 4-3-3-3 distribution, is worth only a game-invitation, not a game-force. And, yes, South might have made a slam-try over three hearts. North could have held the spade ace-king, diamond king and club jack (or club shortness).

West leads his singleton club. East wins with his ace and cannot be sure that the lead is a singleton. However, it ought to be clear from the dummy that there is little point in returning another suit. And just in case the lead is a singleton, East should give a suit-preference signal with his return. As his entry is in the higher-ranking spades, not in diamonds, he should lead back the club jack, his highest remaining club.

West will ruff and, if enjoying one of his more lucid moments, will shift to a spade. The second club ruff defeats the contract. Purr-fect defense!

** ** **

COPYRIGHT 2011, UNITED FEATURE SYNDICATE

DISTRIBUTED BY UNIVERSAL UCLICK FOR UFS