Posted on
Mon, Dec 19, 2011 : 5 a.m.
Bridge column, December 19: Stop students from erring
By Phillip Alder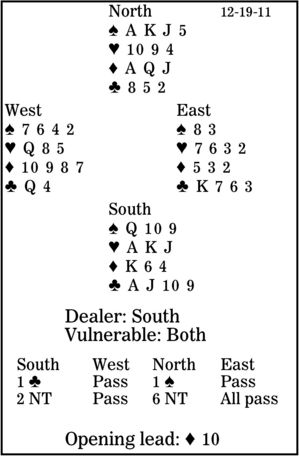 All bridge teachers at one time or another have had a prepared deal ruined because someone, usually a defender, made an unforeseen error. Perhaps he led a strange card, or he shifted to the wrong suit, or he failed to make a "normal" play.
After that happens once or twice, teachers tend to preface deals with "defenders, please don't" do something. What would a professor request in this deal, and how should South make six no-trump anyway, given West's lead of the diamond 10?
When South showed 18, 19 or a poor 20 points, North, knowing their combined count was at least 33, jumped to slam.
Declarer starts with 10 top tricks: four spades, two hearts, three diamonds and one club. There will be a temptation, especially among those students who have recently learned the technique, to take an early heart finesse. However, that leads to failure here.
Other pupils might cash all of their spade and diamond winners first, which is also fatal.

The better players will plan to take three club finesses, hoping East has at least one of the two missing honors (a 76 percent chance). They will take the first trick with dummy's diamond jack and play a club to their jack.

West wins and perseveres with diamonds, but South wins on the board, plays a club to his 10, returns to the board with a spade, and takes a third club finesse to amass 12 tricks: four spades, two hearts, three diamonds and three clubs.

Teacher will ask West not to lead or to discard a heart or a club, and East not to discard a club.

** ** **

COPYRIGHT 2011, UNITED FEATURE SYNDICATE

DISTRIBUTED BY UNIVERSAL UCLICK FOR UFS