Posted on
Fri, Dec 2, 2011 : 5 a.m.
Bridge column, December 2: A murder mystery with deals included
By Phillip Alder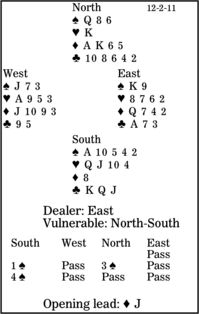 This year's bridge whodunit is "Deadly Endplay" by Ken Allan (Master Point Press). It is about people in Pemberton, a Canadian town. (The author lives in Kingston, Ontario.) The main difference between this book and its cousins is that it contains more bridge deals.
One of the hardest skills to learn is judging how an opponent will react to your play. This deal from the book is an example. If you had been South in four spades, what would you have done after West led the diamond jack?
The bidding is not recommended. A limit raise requires four trumps. However, if North had responded two clubs (or two diamonds, showing where her points lay), South would have rebid two hearts and ruined the point of the deal.
South has two top losers: the heart ace and club ace. So she needs to have only one trump loser. The normal play is to cash the ace, then lead low to dummy's queen. Here, as you can see, that results in the loss of two tricks and defeat of the contract. An alternative, playing low to the queen first, planning to finesse the 10 on the second round if the queen loses to the king, also fails with this layout.

The heroine of the story led dummy's heart king at trick two. What conclusion did West draw?

That declarer was arranging to ruff heart losers on the board. So West took his heart ace and shifted to a low trump. When declarer played low from the board, she suddenly had no trump losers and came home with an overtrick for a top in a duplicate.

** ** **

COPYRIGHT 2011, UNITED FEATURE SYNDICATE

DISTRIBUTED BY UNIVERSAL UCLICK FOR UFS