Posted on
Tue, Dec 20, 2011 : 5 a.m.
Bridge column, December 20: An 'easy' deal can contain a trap
By Phillip Alder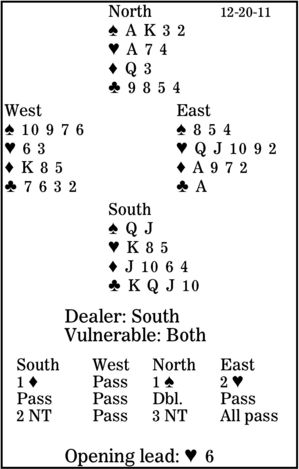 Bjork, a singer-songwriter from Iceland, said: "I sometimes fall into the trap of doing what I think I should be doing, rather than what I want to be doing."
Bridge students can be like that. They look for "the trap" in a prepared deal, trying to work out what they believe they should be doing, rather than what they would do away from the classroom.
When a student does what he thinks the teacher wants him to do, often he will go down in a contract he normally would have made. But occasionally the deal will contain a trap -- like this one. How should South play in three no-trump after West leads the heart six?
When you hold 4-4 in the minors and minimum count, your better opening bid is one diamond. South passed on the second round to tell partner he held a weak hand without spade support. Then North had a close decision. He might have shut his eyes and blasted into three no-trump. However, being a scientist by nature, he doubled, saying that he had too many points to pass but no clear-cut bid available. South, with a heart stopper, suggested no-trump. North was happy with that.
Declarer starts with six top tricks (four spades and two hearts) and can establish three winners in clubs. What's the problem?

The spades are blocked. After playing off the queen and jack, South must be able to reach the dummy. And the only dummy entry is the heart ace. So declarer must take the first trick in his hand with the king. He cashes his two spade honors, then drives out the club ace and claims.

** ** **

COPYRIGHT 2011, UNITED FEATURE SYNDICATE

DISTRIBUTED BY UNIVERSAL UCLICK FOR UFS