Posted on
Fri, Dec 23, 2011 : 5 a.m.
Bridge column, December 23: Partner will play the right card
By Phillip Alder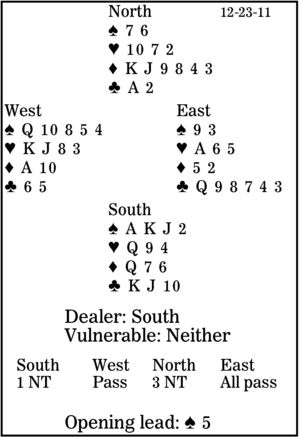 Steve Jobs said: "You can't connect the dots looking forward; you can only connect them looking backward. So you have to trust that the dots will somehow connect in your future."
At the bridge table, you must trust the dots from the past -- the calls and plays -- to decide on your future -- the next call or play.
In this deal, you are West. What are the key dots and how should they influence your defense?
Against three no-trump, you lead the spade five: six, nine and king. South plays a low diamond to dummy's king and returns a diamond to his queen. What should you do next?
Note North's raise. With a good long minor, no singleton or void, and insufficient power for a slam, bid three no-trump or get into your minor (if you are sure three no-trump will not make).
Which dot must you trust here?

East's spade nine at trick one. That was his highest spade, so South falsecarded by winning with his king instead of with his jack. You should see that if you lead the spade queen, South will take at least three spades, five diamonds and one club.

Instead, you must shift to the heart three, the low card telling your partner that you have honors in this suit and are trying to win tricks in it. East should win with his ace and return the heart six (the higher of two remaining cards), giving your side one diamond and four hearts.

Note that if you had shifted to a heart to try to get East on lead for a spade return through declarer, you would have led a high heart, not your lowest.

** ** **

COPYRIGHT 2011, UNITED FEATURE SYNDICATE

DISTRIBUTED BY UNIVERSAL UCLICK FOR UFS