Posted on
Sat, Dec 24, 2011 : 5 a.m.
Bridge column, December 24: 'Tis the season to enojoy bridge
By Phillip Alder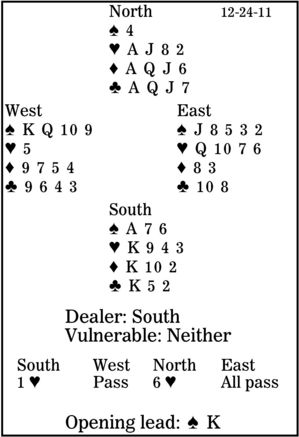 I hope all of my readers have a very happy holiday season. And here is this year's Christmas Competition.
For questions 1 through 4, please ignore the given East and West hands. They will be different when I give the answers on Jan. 28. (The winners will be announced on March 24.)
1. What is the correct line of play in (a) six hearts and (b) seven hearts after West leads the spade king?
2. What are your recommended uncontested auctions when (a) South is the dealer and (b) North is the dealer?
3. (a) You hold the North hand. South opens one diamond. What would you bid? (b) If you respond one heart, there are two secondary questions. South rebids one spade. (i) What would you do now? (ii) How do you envision the auction continuing?
4. You hold the North hand. South opens one club. What would you respond?

5. You hold the West hand. (Ignore East's hand.) With neither side vulnerable, East opens one spade and South passes. What would you respond?

6. You hold the East hand. (Ignore West's hand.) With neither side vulnerable, West opens two spades, showing a decent six-card suit and 5 to 9 high-card points. After North passes, what would you do?

Mail your entry to Phillip Alder, c/o Universal Uclick, 1130 Walnut St., Kansas City, MO 64106 to arrive by Jan. 25. Or email it from my website, www.phillipalderbridge.com. Click on the Contact button.

Please take as read all the usual disclaimers, and remember that this is primarily for fun.

** ** **

COPYRIGHT 2011, UNITED FEATURE SYNDICATE

DISTRIBUTED BY UNIVERSAL UCLICK FOR UFS