Posted on
Mon, Dec 26, 2011 : 5 a.m.
Bridge column, December 26: Do not let them push you around
By Phillip Alder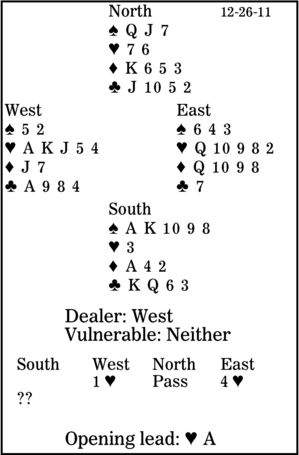 These days it is hard for partners to have an uncontested auction. Those pesky opponents always seem to be bidding. This week we will look at competitive auctions when the point count is approximately evenly divided.
First, look at only your hand (South). West opens one heart, your partner passes, and East jumps to four hearts. What would you do?
East correctly applied the Law of Total Tricks in jumping to four hearts. He knew that his partnership had at least 10 hearts, so bid to the 10-trick level. (But remember that this is not a constructive-bidding tool. You use it when you know your side cannot have the high-card values for game, or when it is a competitive auction.)
The expert principle is that if the opponents pre-empt to four hearts, and four spades is a feasible bid with your hand, that is what you should choose. Your alternative is to double. Then North would pass with his balanced hand and the penalty would be 100 for down one.
Against four spades, West leads the heart ace. What should happen next?

If West continues with the heart king, you have a tough decision. Here, you can ruff, draw trumps and lose only one heart, one diamond and one club. But that would not work well if spades were 4-1. Then making a loser-on-loser play, discarding the inevitable diamond loser, would probably be the winner.

However, a clever West, noting his partner's discouraging heart two at trick one, will cash the club ace and give his partner a club ruff. The later diamond trick results in down one.

** ** **

COPYRIGHT 2011, UNITED FEATURE SYNDICATE

DISTRIBUTED BY UNIVERSAL UCLICK FOR UFS