Posted on
Wed, Dec 26, 2012 : 5 a.m.
Bridge column, December 26: Weird bidding, weird distribution
By Philip Adler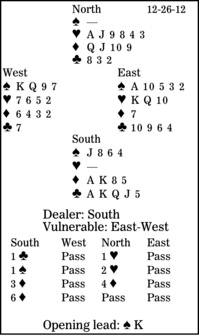 Charles Mingus, a renowned jazz double bassist, composer and band leader who died in 1979, said, "Creativity is more than just being different. Anybody can plan weird; that's easy. What's hard is to be as simple as Bach. Making the simple awesomely simple, that's creativity."
At the bridge table, some players are too creative, making easy deals unnecessarily difficult. At other times, weird distribution demands creativity.
This deal occurred during a duplicate at a country club, where the standard was intermediate. How should South plan the play in either six diamonds or six clubs after West leads the spade king?
The given auction seems reasonable. With 18 points, the South hand is strong enough for a second-round jump, but the heart void is a big minus. Similarly, North is only worth a two-heart rebid given his partner's black-suit bidding. But when South continues with three diamonds, the North hand improves. And when North raises diamonds, it is reasonable for South to bid a slam. Yes, they might have two fast spade losers, but South cannot find out what he wants to know.

Look at the North-South hands only. A grand slam could be there, but the weird 4-1 breaks are too hard to handle.

South starts with 10 top tricks: one heart, four diamonds and five clubs. So, in diamonds, he ruffs the opening lead on the board, cashes the diamond queen and heart ace (discarding a spade), plays a club to his ace, ruffs another spade, draws trumps, and claims.

In clubs, the play is effectively the same.

** ** **

COPYRIGHT: 2012, UNITED FEATURE SYNDICATE
DISTRIBUTED BY UNIVERSAL UCLICK FOR UFS