Posted on
Tue, Dec 27, 2011 : 5 a.m.
Bridge column, December 27: The modern style of competition
By Phillip Alder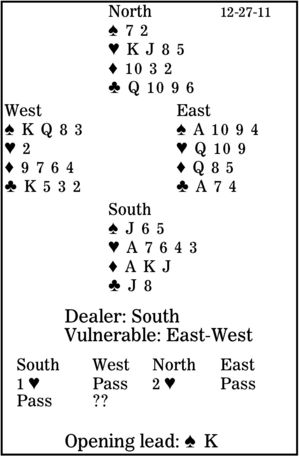 Niklaus Wirth, a Swiss computer scientist best known for designing several programming languages, including Pascal, said, "A good designer must rely on experience; on precise, logical thinking; and on pedantic exactness. No magic will do."
A good bridge player must rely on experience and precise, logical thinking; magic will not do.
Study this deal to understand the concepts of competitive bidding when neither side has a large majority of the points.
South opens one heart; West passes because his hand is not quite strong enough for a takeout double; North raises to two hearts; East passes because takeout doubles with 4-3-3-3 distribution are dangerous, especially at this high a level; and South passes because he has a minimum opening bid.
Now the spotlight falls on West. The logic of the auction is that East must have a number of high-card points. And so West must get his side into the bidding by making a takeout double. He is hoping partner's hand will fit with his; but if not, perhaps the opponents will go to three hearts.

North, with four-card heart support, should immediately reraise to three hearts. With nine trumps, bid to the nine-trick level. Now East should resist the temptation to advance with three spades. West has already bid East's values. If West were strong, he would have doubled on the first round.

Note that both three-level contracts can be defeated. South loses two spades, one heart and two clubs. East concedes one heart, three diamonds and one club (or two hearts and three diamonds).

** ** **

COPYRIGHT 2011, UNITED FEATURE SYNDICATE

DISTRIBUTED BY UNIVERSAL UCLICK FOR UFS