Posted on
Wed, Dec 28, 2011 : 5 a.m.
Bridge column, December 28: With a fair hand, do not go quietly
By Phillip Alder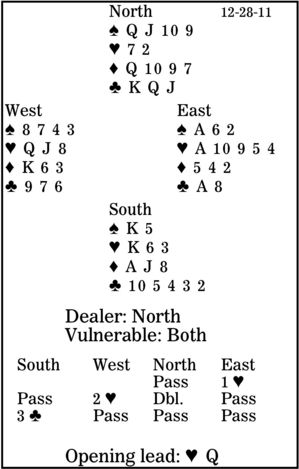 Jack Welch, chairman and CEO of General Electric for 20 years, said: "An organization's ability to learn, and translate that learning into action rapidly, is the ultimate competitive advantage."
A bridge player's ability to learn about the four hands from an auction and to translate that learning into accurate competitive bidding gives him a definite advantage.
This week we are studying competitive auctions. Let's look at the bidding in this deal.
North is nearly worth a one-diamond opening, but with only one king and no aces, he passes. (A minimum opening bid should include at least one ace or two kings.) East opens one heart. (Remember, aces are undervalued at four points.) South sensibly passes: If you overcall with limited high-card values, at least be showing a suit you would like your partner to lead. West raises to two hearts. (This hand is a rock-bottom minimum, but it is tactically bad to pass.) Now North, with a maximum pass and suitable distribution, should risk a takeout double. East passes, of course. And then South should content himself with three clubs because his partner is a passed hand. (Note that if North passes twice, South probably should balance with three clubs, but that very poor suit makes it scary.)
Note that three clubs can be made, but three hearts goes down two, losing two spades, one heart, two diamonds and one club. If either East or West makes the mistake of bidding three hearts, South should happily double and collect 500.

** ** **

COPYRIGHT 2011, UNITED FEATURE SYNDICATE

DISTRIBUTED BY UNIVERSAL UCLICK FOR UFS