Posted on
Sat, Dec 3, 2011 : 5 a.m.
Bridge column, December 3: Learning bridge from problems
By Phillip Alder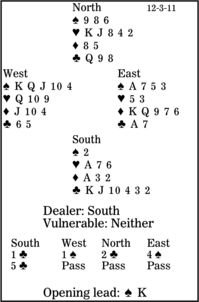 Most of us learn bridge at the table. But what do you do when you cannot find three other players? One possibility is to read "A First Book of Bridge Problems" by Patrick O'Connor (Master Point Press).
The author assumes little knowledge. He gives instruction about basic declarer-play and defense techniques while posing 50 declarer-play and defense problems. They start at an elementary level and progress to today's deal, the last in the book.
How should East plan the defense against five clubs after West leads the spade king?
The bidding is questionable. Although it is not without risk, North ought to make a negative double, not bid two clubs. (Yes, that is outside the parameters of this book; the author should have made South's long suit hearts.) Five clubs is also debatable, but understandable. Now let's move to the play.
East, assuming declarer is not void in spades, can see two tricks: one in spades and one in clubs. The third winner will have to come from diamonds. And there isn't a moment to lose. East should overtake partner's king with his ace and shift to the diamond king. With this layout, South has no chance.

Each problem ends with a tip, this one being: Take charge of the defense when you can see the way home.

The book also includes a little about bidding, a short glossary and a list of the deals' themes.

For all bridge books and paraphernalia, contact Baron Barclay Bridge Supply (www.baronbarclay.com).

** ** **

COPYRIGHT 2011, UNITED FEATURE SYNDICATE

DISTRIBUTED BY UNIVERSAL UCLICK FOR UFS