Posted on
Fri, Dec 30, 2011 : 5 a.m.
Bridge column, December 30: Do not be deaf to the bidding
By Phillip Alder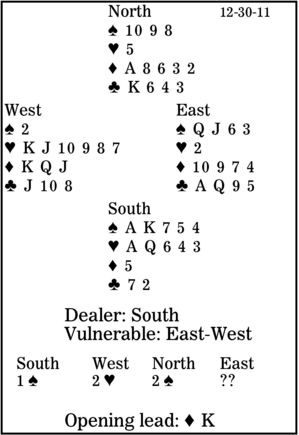 Ford Frick, who was president of baseball's National League from 1934 to 1951, said: "Hear only the things you should hear -- be deaf to others." Interestingly, the Ford C. Frick Award was created in 1978 to be presented annually to a baseball broadcaster.
At the bridge table, you should not be deaf to anything.
In today's deal, you have the South hand. You open one spade. With the opponents retaining a respectful silence, what would you do if partner responds two spades?
Would you do something different if West overcalls two hearts, your partner raises to two spades, and East passes?
Before we get to those answers, note East's pass after his partner overcalls two hearts. With a singleton in West's suit and good defense, he should not bid. Remember, misfits are miserable.
Now to your decisions. If East and West stayed silent, you should rebid three hearts, trying to get to game. But when West overcalls two hearts, you must pass. What would you do with all those hearts? You might ruff one in the dummy, but there is a high risk that East would overruff.

What should happen in two spades?

First, West should lead the diamond king. Then, you would probably win with dummy's ace, play a heart to your ace, and ruff a heart. East overruffs and returns a diamond. You would trump and ruff another heart, but East overruffs again and leads back a trump to stop another heart ruff. With the bad club position, you can collect only five spades, one heart and one diamond for down one.

** ** **

COPYRIGHT 2011, UNITED FEATURE SYNDICATE

DISTRIBUTED BY UNIVERSAL UCLICK FOR UFS