Posted on
Mon, Dec 5, 2011 : 5 a.m.
Bridge column, December 5: More haste makes fewer tricks
By Phillip Alder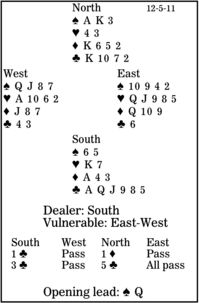 A common fault of inexperienced players is to grab tricks too quickly. Sometimes patience, giving away one trick that could have been won, will result in a greater number of tricks being taken by the end of the deal.
Here is an example. How should South plan the play in five clubs? West leads the spade queen.
The bidding did not reach the best contract of three no-trump by South. Over South's three-club rebid, North could have continued with three spades, showing values in that suit (South denied four spades when he did not rebid one spade) and implying weakness in hearts. South would have converted to three no-trump.
South has three possible losers: two hearts and one diamond. He has only 10 top tricks: two spades, two diamonds and six clubs. At first glance, declarer needs East to have the heart ace. But there is another possibility: Diamonds might break 3-3. If they do, a third diamond winner can be established. However, that must be done without letting East on lead for a heart shift through South's king.
The right play is to let West win the first trick.

Suppose West persists with a second spade. Declarer takes the trick, draws trumps ending on the board, discards a diamond on the high spade, plays three rounds of diamonds, ruffing the last in his hand, and returns to dummy with a trump.

When diamonds are 3-3, South cashes the 13th, pitching the heart seven from his hand. But if they break badly, declarer can still play East for the heart ace.

** ** **

COPYRIGHT 2011, UNITED FEATURE SYNDICATE

DISTRIBUTED BY UNIVERSAL UCLICK FOR UFS