Posted on
Tue, Dec 6, 2011 : 5 a.m.
Bridge column, December 6: Concede trick early to succeed later
By Phillip Alder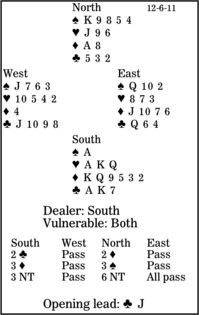 In yesterday's deal, declarer had to lose the first trick, even though he had the ace and king in the suit. Today's deal is a cousin.
West leads the club jack against six no-trump. How should South plan the play? Did West have a more effective lead?
After South opens two clubs, strong, artificial and forcing, I like North to respond two spades, showing five or more spades and eight-plus points. When this deal was played, though, North-South required responder to have either two of the top three honors or a six-card suit to give an immediate positive response. North caught up later by jumping to slam.
There seem to be 13 top tricks: two spades, three hearts, six diamonds and two clubs. What could possibly go wrong?
The risk is a 4-1 diamond break. With this layout, if declarer takes the first trick, cashes his spade ace, plays a diamond to dummy's ace, and discards his low club on the spade king, he goes down. When East gets in with his diamond trick, he cashes the spade queen.

That would be the right play in seven no-trump, but not here. After taking the first trick and unblocking the spade ace, declarer should lead a low diamond and put in dummy's eight.

East takes the trick but has no riposte. South wins his return, crosses to dummy with a diamond, discards his low club on the spade king, and claims.

West defeats the contract if he leads his singleton diamond!

** ** **

COPYRIGHT 2011, UNITED FEATURE SYNDICATE

DISTRIBUTED BY UNIVERSAL UCLICK FOR UFS