Posted on
Wed, Dec 7, 2011 : 5 a.m.
Bridge column, December 7: I'll give you one for five in return
By Phillip Alder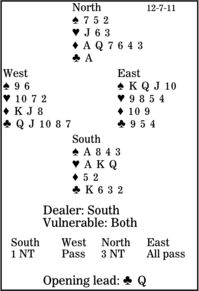 There are deals that require bravery because if things go wrong, they go very wrong. You end up taking fewer tricks than you could have done. However, if your line maximizes your chance of success, go for it. Just hope that your partner is not a result merchant. (That is someone who thinks only the winning line is right, even if it is mathematically worse than another that fails.)
What should South do here? He is in three no-trump, and West leads the club queen.
North is right to raise immediately to three no-trump. If he had a low singleton club and his ace in either major, there would be a much stronger case for showing his diamond suit, because three no-trump might fail with five or six diamonds laydown.
South starts with seven top tricks: one spade, three hearts, one diamond and two clubs. The extra tricks will have to come from diamonds. But now that the club ace has evaporated, there isn't a dummy entry left.

Courage, mon ami. At trick two, declarer should lead a low diamond from the board. If East has king-doubleton, he might nervously take the trick with his majesty. Or he might pause so long that he gives the game away.

Here, though, East wins with his nine and returns a club.

South takes his king, plays another diamond, and bravely calls for dummy's queen.

When the finesse wins, declarer collects 11 tricks. But if East could produce the diamond king, the contract would probably go down three -- a difference of five tricks!

** ** **

COPYRIGHT 2011, UNITED FEATURE SYNDICATE

DISTRIBUTED BY UNIVERSAL UCLICK FOR UFS