Posted on
Fri, Dec 7, 2012 : 5 a.m.
Bridge column, December 7: Trump suits make life trickier
By Philip Adler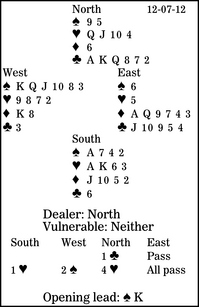 It is well known that trump contracts offer a lot more possibilities than no-trump. Another good book discussing them is "Clever Plays in the Trump Suit" by David Bird (Master Point Press).
It is aimed at intermediate players and covers such important topics as when to draw trumps, handling bad trump breaks and forcing defenses, and what to do with a paucity of trumps (after partner misbid, of course!).
In this deal from the book, how should South plan the play in four hearts after West leads the spade king?
Some players I know would have made a weak jump overcall of two diamonds with that East hand. North was right to jump to four hearts. Despite his limited point-count, his hand had great playing potential.

The South hand has a lot of losers. For declarer to win 10 tricks, dummy's club suit must be established and cashed. But South must try to accommodate bad breaks in both hearts and clubs.

The correct play is to take the spade ace, play a club to dummy's queen, and ruff a club with the heart ace. No doubt West will scowl while he discards a spade!

Declarer crosses to dummy with a trump, ruffs another club with the heart king, and tries to draw trumps. Even when West unexpectedly turns up with four, South leaves him with one and plays top clubs. West may ruff whenever he likes, but declarer still has the heart four in the dummy as an entry via a spade or diamond ruff. He loses only one spade, one heart and one diamond.

** ** **

COPYRIGHT: 2012, UNITED FEATURE SYNDICATE
DISTRIBUTED BY UNIVERSAL UCLICK FOR UFS