Posted on
Fri, Feb 10, 2012 : 5 a.m.
Bridge column, February 10: With your back against another wall
By Phillip Alder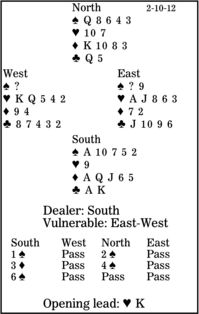 Robert Louis Stevenson said, "There is only one difference between a long life and a good dinner: that, in the dinner, the sweets (desserts) come last."

There is only one important difference between today's deal and yesterday's: North has a fifth spade. How does that affect the right line of play in six spades? West leads the heart king and continues the suit when East encourages with his eight.

South's three-diamond rebid is usually a help-suit game-try, saying that his hand is too strong to pass out two spades but not strong enough to jump to four spades. He is asking North to look at his diamond holding. With a good holding there (a useful honor or two, or shortage), North should jump to four spades, regardless of his point-count. Only in borderline cases should he judge based on hand strength.


Here, North has reasonable diamonds and is nearly worth a four-diamond rebid, which would indicate a maximum with good holdings in spades and diamonds.

South then blasted into six spades, hoping for the best in the trump suit.

As in yesterday's deal, declarer must play the trump suit without loss. Yesterday, when dummy had only four spades, it was right to start with dummy's queen, hoping either West had the singleton jack or East would err by failing to cover with king-doubleton. Now, though, it is best to cash the ace first. This wins whenever either opponent has the singleton king -- a 26 percent chance.

Leading dummy's queen, trying to pin West's singleton jack, is half as good.

** ** **

COPYRIGHT 2012, UNITED FEATURE SYNDICATE

DISTRIBUTED BY UNIVERSAL UCLICK FOR UFS