Posted on
Sat, Feb 16, 2013 : 5 a.m.
Bridge column, February 16: Use the bidding to read the play
By Philip Adler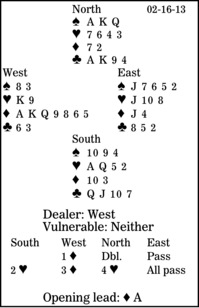 Groucho Marx said, "I find television very educating. Every time somebody turns on the set, I go into the other room and read a book."

That sounds like a good plan. Every time someone in your house turns on a television set, go into another room and reread this column!

Good bridge players do a lot of "reading" at the table. They read the bidding and the played cards, gaining information from them. A good reader would find this deal easy, but someone less literate would struggle.

How should South play in four hearts after West cashes two top diamonds (East playing jack-four, high-low, to show his doubleton), then shifts to a club?


Note South's advance of his partner's takeout double. Since South was an unpassed hand, his two-heart single jump showed some 9 to 11 points with four-plus hearts. (If South were a passed hand, he would have been promising a good seven to a poor 10 points.)

South has already conceded two tricks, so he can afford only one more loser. The black suits are safe, so he must handle trumps carefully.

Normally one would either cash the ace, cross to dummy and lead toward the queen; or immediately finesse the queen. However, can East have the heart king here?

Not if the bidding is to be believed. West surely needs that king. So, reading West for king-doubleton, the right line is to cash the heart ace, then to continue with a low heart, hoping that the king appears.

** ** **

COPYRIGHT: 2013, UNITED FEATURE SYNDICATE
DISTRIBUTED BY UNIVERSAL UCLICK FOR UFS