Posted on
Sat, Feb 23, 2013 : 5 a.m.
Bridge column, February 23: An odds-against play works occasionally
By Philip Adler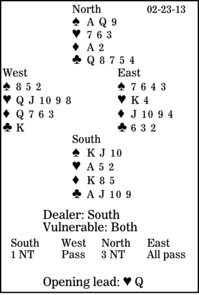 Carl Hiaasen, a columnist and novelist, said, "My books are shelved in different places, depending on the bookstore. Sometimes they can be found in the Mystery section, sometimes in the Humor department, and occasionally even in the Literature aisle, which is somewhat astounding."
At the bridge table, we try to find lines of play or defense that are favorites to succeed. We accommodate likely distributions. However, occasionally we must allow for an unlikely scenario to maximize our chances.
In this example, South is in three no-trump. West leads the heart queen. What is the best defense? How should South then try to make his contract?
First, East must overtake with his heart king at trick one. South will duck, hoping the king is a singleton, but East returns his second heart. Let's assume declarer plays low again. West wins and leads a third heart, East discarding a spade.

South starts with seven top tricks: three spades, one heart, two diamonds and one club. The other two winners obviously will come from the club suit. But if West gets on play with the club king, he will cash his last two hearts to defeat the contract.

Declarer must work to keep West off the lead.

After winning the third trick, South should play a spade to the board, then lead the club queen, encouraging East to cover if he has the king. But when East plays low, South should put up his ace. If the king does not fall, declarer leads another club, hoping East has to take the trick.

Here, though, the king tumbles (a priori, 6.22 percent) and declarer claims 11 tricks.

** ** **

COPYRIGHT: 2013, UNITED FEATURE SYNDICATE
DISTRIBUTED BY UNIVERSAL UCLICK FOR UFS