Posted on
Tue, Feb 26, 2013 : 5 a.m.
Bridge column, February 26: Another visit to suit preference
By Philip Adler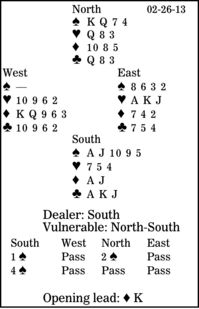 The best improvement in bridge in the last 20 years is the employment of "useless" cards to send suit-preference signals.
Without this style of defense, West would have to guess what to do in this deal. With suit preference, it is easy.
How should the play and defense go in four spades after West leads the diamond king?
South has four losers: three hearts and one diamond. (West cannot have the ace and king of hearts, because his opening lead would have been the heart ace, not the diamond king.) But South has 10 potential tricks: five spades, two diamonds and three clubs. His best play is to take the first trick and immediately to lead back his diamond jack. To defeat the contract, West must win with his queen and shift to a heart. But how will he know that is right instead of a club switch?
At trick one, East plays his diamond two, discouraging. But on the second round, he can play the seven or four. Wanting a heart shift, he drops the seven, the higher card asking for the higher-ranking of the other two side suits. Now West knows exactly what to do.

If you have only low trumps, you can also use those to send suit-preference signals. In this deal, if South immediately draws trumps, East can play eight-six-three-two, always the highest calling for a heart.

The snag with these signals is that you and your partner have to watch the cards very carefully. But if you do, you will defeat more contracts.

** ** **

COPYRIGHT: 2013, UNITED FEATURE SYNDICATE
DISTRIBUTED BY UNIVERSAL UCLICK FOR UFS