Posted on
Sat, Feb 4, 2012 : 5 a.m.
Bridge column, February 4: Think about the various ways
By Phillip Alder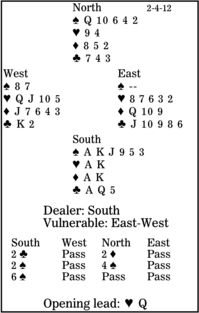 Aristotle said, "Different men seek after happiness in different ways and by different means, and so make for themselves different modes of life and forms of government."

Different declarers seek their contracts' tricks in different ways. The better players are usually -- but not always -- more successful than the less capable; bridge can be frustrating like that.

Look at today's North and South club holdings. How would you play that suit for only one loser? How should South play in six spades after West leads the heart queen to declarer's ace?

North's jump to four spades guaranteed at least four-card support and denied a first- or second-round control in any suit. Then South, seeking happiness, bid six spades.


Declarer starts with 11 top tricks: six spades, two hearts, two diamonds and one club. He must avoid losing two club tricks. So, one reasonable line is to draw trumps ending in the dummy and to play a club to the queen. Here, though, that 50-50 shot fails.

It is better to eliminate the red suits first. Draw trumps, cash off the red-suit winners, overtake the spade jack with dummy's queen, and ruff the diamond eight. Then South should cash his club ace, go to dummy with a spade, and play a club to the queen. He gets home whenever East has the king, but also when West has a singleton or doubleton king -- in all, 55 percent. Here, when West takes his trick, he must concede a ruff-and-sluff, on which South's remaining club evaporates.

** ** **

COPYRIGHT 2012, UNITED FEATURE SYNDICATE

DISTRIBUTED BY UNIVERSAL UCLICK FOR UFS