Posted on
Sat, Jan 14, 2012 : 5 a.m.
Bridge column, January 14: What is the truth about a rock-crusher?
By Phillip Alder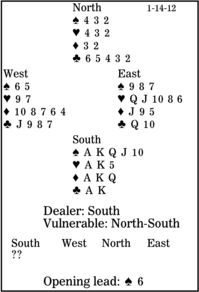 C.S. Lewis said, "Even in literature and art, no man who bothers about originality will ever be original: whereas if you simply try to tell the truth (without caring two pence how often it has been told before), you will, nine times out of 10, become original without ever having noticed it."
Since he was British, I think he actually said "tuppence"!
This week we have been looking at the truth in deals where declarer has had too many losers. In particular, we have concentrated on eliminating losers.
We have seen that if declarer discards a loser from his own hand, it is the end of his worries. But if he pitches a loser from the dummy (the shorter trump hand), he must follow up by ruffing in the dummy the loser that still nestles in his hand. Here is another example.
First, though, how would you plan the auction with that South hand? And how would you plan the play in seven spades after West leads a trump?

No one knows how to bid that South hand. Since you cannot find out if partner has the heart queen, the sensible opening bid is six no-trump. But if you are going to gamble, you should chose seven spades, not seven no-trump.

You have one heart loser and only 12 winners. But you can execute one of those two-step routines. Win the first trick, draw a second round of trumps, then cash your three diamond winners, discarding a heart from the dummy. Next, take your top hearts, ruff your remaining heart five on the board, play a club to your hand, remove the missing trump, and claim.

** ** **

COPYRIGHT 2012, UNITED FEATURE SYNDICATE

DISTRIBUTED BY UNIVERSAL UCLICK FOR UFS