Posted on
Wed, Jan 2, 2013 : 5 a.m.
Bridge column, January 2: Keep hunting for those tricks
By Philip Adler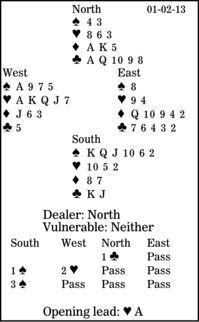 Ricky Gervais, an English media star who is perhaps best-known as the deviser of "The Office" and "Extras" with Stephen Merchant, said, "People confuse the subject of the joke with the target of the joke, and they're very rarely the same."
Having thought about that for a while, I deemed it to be correct, not a joke.
In this tough example deal, West was defending against three spades. He led the heart ace and continued with the heart king, East playing high-low to indicate a doubleton. What did West do next?
North's second-round pass indicated a minimum opening bid (and, if your partnership uses support doubles, denied three spades). Then, when South jump-rebid three spades, inviting game with at least a six-card suit, North was tempted to raise. But those three low hearts rang a warning bell.

West wondered from where five winners would come. He could see three in hearts and one in spades, but where was the fifth?

There were 28 high-card points between his hand and the dummy. South had indicated 10 or 11 with his game-invitational rebid. So East could not have much. And since East was marked with at most one trump, there was no point in West's shifting to his singleton club, hoping to win the next trick with his spade ace, give his partner a heart ruff, and receive a club ruff in return.

Instead, West cashed his third heart trick (East carefully discarding the club two) and continued with the heart seven. When East ruffed with the spade eight, it effected an uppercut, promoting a second trump trick for West.

** ** **

COPYRIGHT: 2013, UNITED FEATURE SYNDICATE
DISTRIBUTED BY UNIVERSAL UCLICK FOR UFS