Posted on
Sat, Jan 21, 2012 : 5 a.m.
Bridge column, January 21: Counting to 13 is lucky in bridge
By Phillip Alder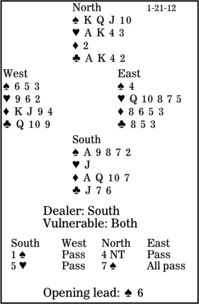 Duffy Daugherty, a football player and coach who died in 1987, said, "My only feeling about superstition is that it's unlucky to be behind at the end of the game."
Many people consider 13 to be an unlucky number. Bridge players cannot have that superstition, because they hold 13 cards and play out 13 tricks. Also, it is not always unlucky to have insufficient tricks at the end of a deal. (Don't you love sentences with three negatives?)
The unsuperstitious players, who happily count to 13, tend to do well. This grand slam is a good example. How would you try to make seven spades after West irritatingly leads a trump?
The bidding is sensible. Yes, there might be an unavoidable late heart or club loser, but how will North ever find out? (One other point: If you use Roman Key Card Blackwood, this immediate jump should be regular Blackwood, not RKCB. To use RKCB, make your game-forcing raise, then bid four no-trump on the second round.)
When you are in a grand slam, there is no point in counting losers, because you cannot afford any. Just try to find 13 tricks. Here, outside spades, you have five winners: the ace-king of hearts, the diamond ace and the ace-king of clubs. So you must win eight trump tricks. Luckily all your trumps are high, so there is no risk of an overruff. However, before crossruffing, cash all of your side-suit winners.

Win the first trick on the board, play a diamond to your ace, then cash dummy's four rounded-suit winners. After that, have fun ruffing dummy's four remaining low cards in your hand and your three diamonds on the board.

** ** **

COPYRIGHT 2012, UNITED FEATURE SYNDICATE

DISTRIBUTED BY UNIVERSAL UCLICK FOR UFS