Posted on
Sat, Jan 26, 2013 : 5 a.m.
Bridge column, January 26: Christmas competition: play-problem answer
By Philip Adler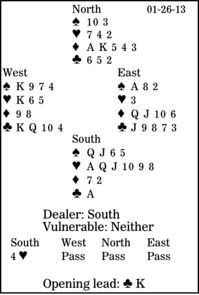 Arthur C. Clarke, an English science-fiction writer who lived a lot of his life in Sri Lanka, said, "I don't pretend we have all the answers. But the questions are certainly worth thinking about."

I hope you thought the questions in my Christmas Competition were worth thinking about. And I am going to give you my answers without pretense. However, they will have to be furnished in two stages, because the East-West hands will change slightly for the play problem.

This was the initial question: How should South play in four hearts after West leads the club king?

Declarer has eight top tricks: five hearts, two diamonds and one club. The heart finesse is bound to fail, of course. But a high spade can be established and perhaps a low spade ruffed in the dummy.


It looks natural to lead a spade to dummy's 10 at trick two. Here, though, if East wins with his ace and shifts to his trump, the contract cannot be made. West can kill the spade ruff.

Instead, South should play a diamond to the dummy, then lead the spade three toward his hand. If East wins with his ace, declarer loses only two spades and one heart, being able to establish two spade winners. If East plays low, South's queen loses to West's king, but West cannot shift with effect to hearts. Suppose he leads a club. Declarer ruffs and plays a spade to the 10. East wins and switches to a trump, but South can try the finesse, being assured of one spade, five hearts, two diamonds, one club and one spade ruff.

The bidding and opening-lead answers will be in Monday's column.

** ** **

COPYRIGHT: 2013, UNITED FEATURE SYNDICATE
DISTRIBUTED BY UNIVERSAL UCLICK FOR UFS