Posted on
Thu, Jan 26, 2012 : 5 a.m.
Bridge column, January 26: When do you take the first finesse?
By Phillip Alder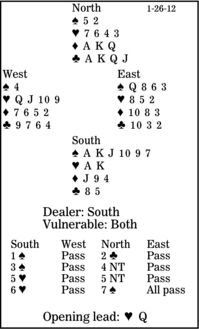 Juan Manuel Fangio, Argentinian Formula 1 champion in 1951 and 1954-57, said, "I learned to approach racing like a game of billiards. If you bash the ball too hard, you get nowhere. As you handle the cue properly, you drive with more finesse."
Some bridge deals require brute force, but far more require finesse -- or finesses. Take this deal. The bidding given is sensible, but suppose North steers his partner into seven spades. How should South play after West leads the heart queen?
In the auction, South's three-spade rebid promised extra values. Since he could not have the values for this call unless he had heart honors, North immediately used Blackwood. His subsequent five no-trump said that his side had all four aces and that he was thinking about a grand slam. When South did not bid seven, which he ought to have done with solid spades and the heart king, North should have signed off in six no-trump. (Yes, this is an excellent deal for users of Roman Key Card Blackwood, when South can deny holding the spade queen.)
South has to play the trump suit without loss. With only eight trumps, he is mathematically much better off taking a finesse than cashing the ace and king. Playing the ace first, planning a second-round finesse, wins when West has a singleton queen. But finessing on the first and second rounds brings home the grand slam when West has a low singleton, which is four times more likely. The odds have spoken: Finesse spades immediately.

** ** **

COPYRIGHT 2012, UNITED FEATURE SYNDICATE

DISTRIBUTED BY UNIVERSAL UCLICK FOR UFS