Posted on
Mon, Jan 28, 2013 : 5 a.m.
Bridge column, January 28: Christmas competition bids and leads
By Philip Adler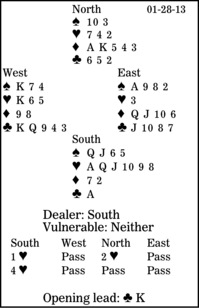 Here are the answers to the bidding and lead questions in my Christmas Competition.
2. If South is the dealer and East-West pass throughout, how would the bidding go? See the diagram. Yes, South might rebid two spades; perhaps North is 5-3 in the majors. But it is not clear that a 5-4 spade fit will be better than a 6-3 heart fit.
Look at only the West hand.
3a. If South opens one diamond, what should West do? Make a takeout double. This isn't guaranteed to work better than a two-club overcall, but it keeps more options open. A good partner will bid a five-card major. (Pass could be best, but goes against the grain these days.)
3b. If West opens one club (yes, a tad thin) and East responds one heart, what should West rebid? Two hearts -- no second choice.

3c. South opens one no-trump (15 to 17 points) and North raises to three no-trump. What should West lead? The club four.

Look at only the South hand.

4. South opens one heart and North responds one spade. What should South rebid? Four spades (or three spades; or four clubs, a splinter bid -- but that would be my third choice with so few high-card points).

Look at only the East hand.

5a. If West opens one spade, what should East respond? Three spades, limit raise.

5b. If South opens one club, West makes a takeout double and North passes, what should East bid? Two spades.

** ** **

COPYRIGHT: 2013, UNITED FEATURE SYNDICATE
DISTRIBUTED BY UNIVERSAL UCLICK FOR UFS