Posted on
Tue, Jan 3, 2012 : 5 a.m.
Bridge column, January 3: You have to go with the flow
By Phillip Alder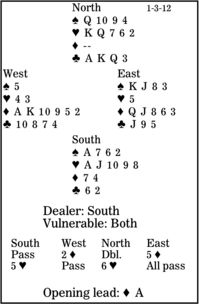 You have to be courageous at the bridge table. If you take the cautious route every time, you will be a big loser in the long run. Yes, when a deal is a misfit, be circumspect. But when you think your side has a good fit, get in there and scrap.
In this deal, after South passes and West opens with a sound second-seat weak two-bid, North has an automatic takeout double: short diamonds and length in the other three suits.
Now East, despite being vulnerable, should apply the Law of Total Tricks. With a known 11-card fit, he jumps to the 11-trick level: five diamonds.
Then South must not make a cowardly pass. He expects a double fit in the majors, he has two aces, and he is a passed hand (although he should make the same bid even if West had been the dealer). South advances with five hearts.
Finally, North should have a shot at six hearts. Yes, a grand slam might be making, perhaps with a winning spade finesse through East if South has both the ace and jack, but there is no way to know for certain. Don't gamble on grand slams.

The play is more testing. South ruffs the diamond lead in the dummy, draws trumps, ruffs his second diamond, and plays four rounds of clubs, discarding one spade and ruffing the last. He has learned that West began with two hearts, six diamonds, four clubs and, therefore, one spade.

Now declarer leads a low spade from his hand, covering West's card. East, who is endplayed, must either lead away from his other spade honor or concede a ruff-and-sluff.

** ** **

COPYRIGHT 2012, UNITED FEATURE SYNDICATE

DISTRIBUTED BY UNIVERSAL UCLICK FOR UFS