Posted on
Wed, Jan 4, 2012 : 5 a.m.
Bridge column, January 4: The brave player would do well
By Phillip Alder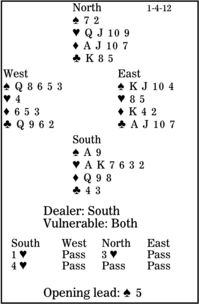 Yesterday, I said that a bridge player must be brave when a fit is known or likely.
This deal is another example. Over North's game-invitational limit raise of three hearts, East might have risked a takeout double. No doubt this would have persuaded West to sacrifice in four spades, based on the double fit in the black suits. Four spades doubled would have cost only 200 points, West losing one spade, one heart and two diamonds.
Admittedly, that would not look so good if West was going to lead a club against four hearts. And to be honest, I think that is the correct start. Against trump contracts, shorter suits generate more tricks on average.
Suppose, though, that West does lead a low spade. What should happen?
First, East, knowing his partner cannot have the spade ace, should put in his 10, to find out who holds the queen. Then, if South wins the trick, he should go down. After trumps are drawn and the losing diamond finesse taken, East leads his spade four. West wins and shifts to the club two -- not the queen in case South has the jack and must guess the suit. The defenders collect one diamond, one spade and two clubs.

However, if South plays his spade nine at trick one, cutting the defenders' communications, he is safe. Later, declarer discards one club loser on dummy's fourth diamond, losing only one trick in each side suit.

Yes, if the vulnerability is unfavorable and you are clearly outgunned, or your hand is full of defensive tricks, be circumspect. But that won't happen often.

** ** **

COPYRIGHT 2012, UNITED FEATURE SYNDICATE

DISTRIBUTED BY UNIVERSAL UCLICK FOR UFS