Posted on
Fri, Jan 6, 2012 : 5 a.m.
Bridge column, January 6: When in the middle, find a middling bid
By Phillip Alder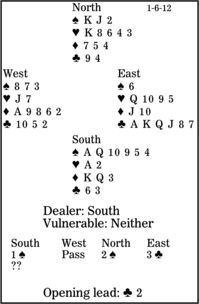 Sometimes you will be faced with a close bidding decision. Then you have three choices: take the low road (underbid), take the high road (overbid), or find a call that falls between those extremes.
Glance at the South hand. You open one spade, West passes, North raises to two spades, and East intervenes with three clubs. What would you do?
Once you have decided, look at the North hand also. You are in four spades. West leads a club. East takes two tricks in the suit, then shifts to the diamond jack. Disappointingly, your king loses to West's ace. West returns a diamond to your queen. How would you continue?
Back to the bidding dilemma. Three spades is an underbid and four spades an overbid (but acceptable). There is a middle ground, though: rebid three diamonds. This is a game-try, saying you are too strong for three spades but not strong enough for four spades, and asking partner to evaluate.
Here, North's hand is good (it has eight support points, counting one for the doubleton club), and bad (those three low diamonds). He should return the compliment, rebidding three hearts. Then you will jump to four spades.

You have only nine top tricks: six spades, two hearts and one diamond. You must establish a long heart for a diamond discard.

Cash your spade ace and heart ace, cross to dummy's heart king, and ruff a heart high in your hand. Continue with a trump to dummy's jack, ruff another heart high, lead a spade to dummy's king, and cash the heart eight, pitching the diamond three.

** ** **

COPYRIGHT 2012, UNITED FEATURE SYNDICATE

DISTRIBUTED BY UNIVERSAL UCLICK FOR UFS