Posted on
Sat, Jan 7, 2012 : 5 a.m.
Bridge column, January 7: Will you spot the key spot?
By Phillip Alder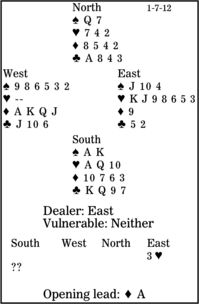 At the bridge table, it is important to pay close attention to the exact spot cards in a suit -- or suits!
In today's deal, you are South. East deals and opens three hearts. What would you do?
East has a heart suit that does not meet traditional pre-empting standards: two of the top three or three of the top five honors. But players are much more cavalier these days, pre-empting whenever they have a weak hand and a long suit. They hope to win more on the swings than they lose on the roundabouts.
You should overcall three no-trump. Yes, you have only 18 high-card points and partner might have none. If West is loaded, you will go down badly. But you should assume partner has about seven points. If he doesn't, get a new partner, one who holds better cards! In particular, do not make a takeout double with only a doubleton in an unbid major.
What should West do? It is dangerous to bid four spades, but it works well here, going down only one.

Against three no-trump, West cashes four diamond tricks, then exits with a spade. How would you continue?

Since East must have the king and jack of hearts, you have nine tricks via two spades, three hearts and four clubs. But you need two dummy entries to take the two heart finesses.

After winning the spade shift, cash the king and queen of clubs, noting the 3-2 split. Then carefully overtake your club nine with dummy's ace, play a heart to your 10, lead the carefully conserved club seven to dummy's eight, take the second heart finesse, and claim.

** ** **

COPYRIGHT 2012, UNITED FEATURE SYNDICATE

DISTRIBUTED BY UNIVERSAL UCLICK FOR UFS